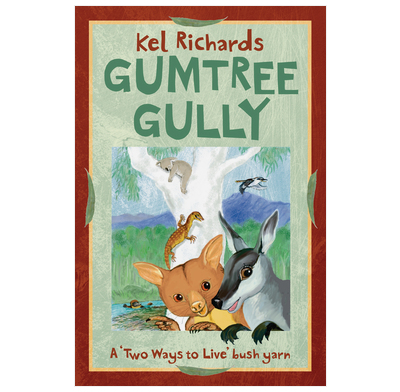 Gumtree Gully
A 'Two Ways to Live' bush yarn
A lovely stocking filler for 5-11 year olds based on Two Ways to Live.
Bluey the Possum and Rocky the Wallaby love living in Gumtree Gully. But along with their bush friends, they're about to face a danger that could destroy everything.
Kel Richards works on radio and writes books. He has two children of his own, and he read them heaps of stories when they were younger. They used to complain, 'Dad, don't do the funny voices, just read the story.'
This children's story book is based on the Two Ways to Live gospel outline, introducing concepts such as God our creator, obedience, rescue and grace. And at the end of each chapter there's a section titled 'What's inside this story?' which explores the meaning. Suitable for 5-11 year olds. Gumtree Gully has a timeless message that you can share with your children.
Contents
1. The Ranger
2. The animals
3. The bushfire
4. The rescue
5. Out of the ashes
6. The choice
Things for adults to talk about with the kids
Specification
| | |
| --- | --- |
| Age range: | 6 - 9 |
| Author | Kel Richards |
| ISBN | 9781921068119 |
| Format | Saddle stitch |
| First published | March 2006 |
| Dimensions | 137mm x 208mm x 4mm |
| Language | English |
| Pages | 64 |
| Publisher | Matthias Media |
"Lovely story with the gospel message clear to see"
I read this to my two children last year (7&6) and they both thoroughly enjoyed it. It's engaging, well illustrated and importantly has the gospel clear to see. I'd definitely recommend it and would like to try and find other similar stories!
"Great - the messasge of salvation and a really good story!"
I love this little book. It's fun to read and has great pictures which bring the story alive for the children. It follows the story of some bush animals in Australia who, despite being warned by the loving and caring Ranger to obey a few simple rules, decide to live their way with disastrous consequences. The story mirrors the 'Who will be King' tract and at the end of each chapter a careful explanation is given which clearly explains the Gospel truths suggested in the story. This is backed up by simple verses from the Bible. My 9 year old son really enjoyed the book and now I give a copy to the children in our Explorer's Bible Club when they move on from us.
"Engaging 2 ways to live for youngsters"
My son is three, and therefore a little young really for this book - or so I thought. He loves it! We read a chapter each night, and by giving each character a voice and using the illustrations, he sticks with the story very well.

The story and characters are engaging, and the text is well written. And the short sections called 'What's inside this story' at the end of each chapter give a very clear and concise 2 ways to live message.

The illustrations are very good, but I wish there were just a few more.