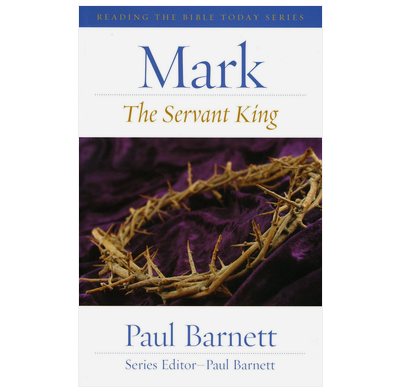 The Servant King: Reading Mark Today
Readable, practical and accessible commentary on the book of Mark.
We are waiting for a decision from the publisher, Aquila Press, on whether they're going to continue this series and continue to supply the UK with stock. Apologies for this delay. We'll update this page as soon as we hear.
The Reading the Bible today series of non-technical commentaries is devoted to presenting careful scholarship in a way that everyone can understand and enjoy.
Mark tells the story of Jesus simply, but with great emotional power. Paul Barnett's explanation of this Gospel will help readers understand the world of Jesus more clearly and respond to his claims on their lives with greater energy.
Part of The Good Book Company's Commentary List, this commentary has been selected because it not only deals faithfully and carefully with God's Word but is readable, practical and accessible as well.
Contents
Reading Mark Today I
1. Why should we read Mark?
2. Why should you read this book?
3. Mark's story
4. Mark's world
5. Who wrote this Gospel?
6. Who was John Mark?
7. Is Mark a history of Jesus?
Reading Mark Today II
8. The beginning of the gospel (1:1-13)
9. The kingdom of God is near (1:14-45)
10. The Son of Man is revealed (2:1 - 3:6)
11. Jesus calls the Twelve (3:7 - 4:34)
12. The Lord is revealed to the Twelve (4:35 - 6:6a)
13. Two feasts, two kings (6:6b-56)
14. Uncleanness (7:1-23)
15. Jesus in Gentile regions (7:24 - 8:26)
16. The Christ (8:27 - 9:1)
17. The mountain and the valley (9:2-29)
18. Journey through Galilee (9:30-50)
19. Journey to Jerusalem (10:1-52)
20. Jerusalem: The Lord in his temple (11:1 - 12:44)
21. The end of the temple (13:1-37)
22. The night he was betrayed (14:1-72)
23. King of the Jews (15:1-47)
24. The empty tomb (16:1-8)
Specification
| | |
| --- | --- |
| Author | Paul Barnett |
| ISBN | 9781875861323 |
| Format | Paperback |
| First published | January 2004 |
| Dimensions | 138mm x 215mm x 19mm |
| Language | English |
| Pages | 307 |
| Publisher | Aquila Press |
Other information
Dr Paul Barnett combines practical ministry with Biblical scholarship. He is an international lecturer in New Testament studies, and has authored numerous books. He has pastored two parishes and served as chaplain at both the University of Sydney and Macquarie University. Paul Barnett was, until 2001, Anglican Bishop of North Sydney, Australia.
"Rekindled my Bible reading"
I have spent the year 2020 reading this. The gospels can become stale for us (like any part of the Bible) because we have heard it (or think we have heard it) so often in the past. Paul has done us a tremendous service by adding colour and a wonderful sense of proximity for the reader to the events. He writes with great elegance yet I found it as riveting as any more expected 'page turner'. First on my list after lockdown is a visit to Galilee (in particular). Thank you Paul for bringing me back to the wonder of the gospels!
"Very helpful"
Really helpful commentary, aided me in writing bible studies and sermons.
"Great for going deeper"
I am using this book to prepare for a Bible Study. Readable for a lay person. Good insights and application points. Have used the questions at the end of each section for discussion.
"Excellent commentary"
This is a non technical commentary which reads very easily yet gives plenty of depth into the text of the Gospel according to Mark. The big themes across the book come out very clearly. The book starts with an brief introductory section which helps to focus when studying the rest of the book. Each chapter is fairly short and has a few questions for reflection. This makes it good to help with personal/group study as well as a reference volume.
"Excellent Commentary"
This is an excellent book for those looking for a more in depth study of Mark's Gospel without going into voluminous detail. It is well written and easy to follow. Very helpful for personal study, 1-1 Bible study and leaders of small groups.