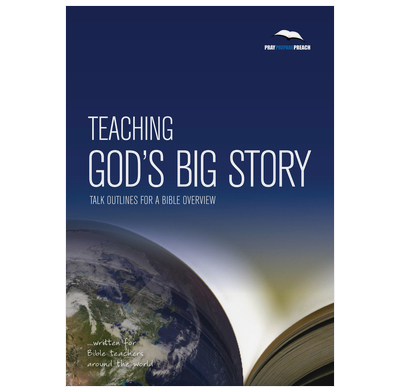 Teaching God's Big Story
Talk outlines for a Bible overview
Preaching God's Big Story gives talk outlines for a Bible overview.
Part of the Pray, Prepare, Preach series.
Preaching God's Big Story is one of our Pray-Prepare-Preach (PPP) booklets. PPP is a series of guides to help Bible teachers world wide explain God's Word clearly and accurately. This particular booklet gives you 24 talk outlines for a Bible overview. It also includes helpful charts and maps that succinctly illustrate the Bible's great story as it unfolds from Creation to New Creation.
This aide helps you to:
- understand the main point of Bible section
- think how it is important for your people
- teach the Bible section clearly
The Pray-Prepare-Preach (PPP) series provides basic sermon outlines covering key Bible books. These are written in very simple English. They provide:
- a study section to help the preacher understand the passage context.
- a basic talk outline, with suggestions for headings, illustrations and application.
Contents
A. How to prepare a talk
B. How to use 'Preaching God's Big Story'
C. Introduction to the Bible story
- Bible books
- God's big story
- The big story plan
- Plan for this book
- How to use this book
D. Talks and extra help pages
Free extras
Specification
| | |
| --- | --- |
| Author | Phil Crowter |
| ISBN | 9781906334574 |
| Format | Saddle stitch |
| First published | March 2009 |
| Dimensions | 148mm x 210mm x 6mm |
| Language | English |
| Pages | 96 |
| Publisher | The Good Book Company |
Also available in
Other information
'These helpful guides are a wonderful tool for getting to the heart of the Bible, understanding its message, clarifying its teaching and communicating it to others with confidence and accuracy. I warmly commend them.'
- David Jackman, President, Proclamation Trust, UK
'One of the greatest needs around the world is for preaching that is firmly based in the Bible passage, exposing its power and its relevance. The Pray - Prepare - Preach series is a great help for the many pastors and lay preachers who have so few resources.'
- Jonathan Lamb, Director, Langham Preaching, Langham Partnership International
'This series has the unique strength of turning complex theological themes into a concise, believer-friendly roadmap into the world of the Bible. This will surely strengthen faith in the Bible as being truly the Word of God.'
- Emmanuel Egbunu, Bishop of Lokoja, Nigeria
"Great bible overview"
This book has helped bring about a preaching programme for our new church plant. I have used this along side Vaughan Roberts book 'God's Big Picture'. This book helped me also bring about my own visual pictures that fit with the 8 p's from Vaughan Roberts.
So far the church is benefiting from the beginnings of understanding God's great plan, for his people.
I have bought this book for a number of men and women to help get them thinking about the bigger picture of the bible.
"Easy to read and most useful "
This book is an extremely useful tool for preachers and for those seeking a simple, clear understanding of the essential message of the Bible. The whole of biblical history is summarised, and each major event is represented by a coloured symbol, e.g. a tree for creation.
This method could be used effectively with visual-oriented people, such as young people who have grown up with television and computers, as well as with people who struggle to understand traditional theological presentations.