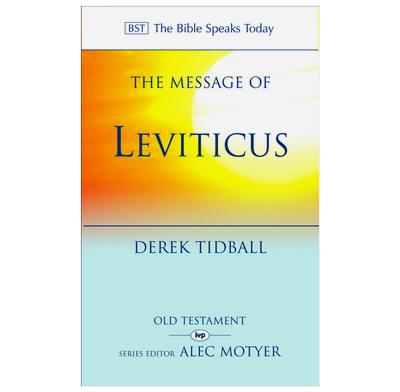 The Message of Leviticus
Discover how Leviticus is actually all about Christ - not dutiful law-keeping.
For many Christians, the Old Testament book of Leviticus tends to be largely unknown and unread. However, the Christian gospel - which presumes a knowledge of sacrifice and atonement, of law and grace, of sin and obedience, of defilement and cleansing, and of priesthood and temple curtains - makes little sense without the background it provides.
Derek Tidball believes that Leviticus is of foundational importance for our understanding of God, the gospel and Christian living, and that it needs to be taught and preached to congregations today. It even has much to say about the creation of healthy societies. In this excellent exposition, he shows how Leviticus serves as a preliminary sketch of the masterpiece that was to be unveiled in Christ, and unfolds its testimony to a faith not of law but of grace, not of duty but of love, not of drudgery but of gratitude - and to God's people set free to be holy.
Part of The Good Book Company's Commentary List, this commentary has been selected because it not only deals faithfully and carefully with God's Word but is readable, practical and accessible as well.
Contents
Contents
Part 1. The manual of sacrifice: enjoying God's presence (1:1-7:38)
1. Consecration to God: the burnt offering (1:1-17)
2. A gift for God:the grain offering (2:1-16)
3. Fellowship with God: the peace offering (3:1-17)
4. Forgiveness from God: the sin offering (4:1-5:13)
5 Amendment before God: the guilt offering (5:14-6:7)
6. Instructed by God: the priests' responsibilities (6:8-7:38)
Part 2. The manual of priesthood: entering God's service (8:1-10:20)
7. Anointed for service (8:1-36)
8. The glory of the Lord appeared (9:1-24)
9. Fire from Lord (10:1-20)
Part 3. The manual of purity: encountering god's design (11:1-15:33)
10. Purity and the diet (11:1-47)
11. Purity and the body (12:1-8; 15:1-33)
12. Purity and disease (13:1-14:57)
Part 4. The manual of atonement: ensuring God's forgiveness (16:1-34)
13. For all the sins of Israel (16:1-34)
Part 5. The manual of holiness: enacting God's word (17:1-26:46)
14. God's word about life blood (17:1-16)
15. God's word about family health (18:1-30)
16. God's word about society's welfare (19:1-37)
17. God's word about the penal code (20:1-27)
18. God's word about spiritual leadership (21:1-22:33)
19. God's word about times of celebration (23:1-44)
20. God's word about safeguarding the sacred (24:1-23)
21. God's word about radical economics (25:1-55)
22. God's word about future prosperity (26:1-46)
Part 6. The manual of dedication: enamoured of God's grace (27:1-34)
23. God's word about consecration (27:1-34)
Specification
| | |
| --- | --- |
| Author | Derek Tidball |
| ISBN | 9781844740697 |
| Format | Paperback |
| First published | July 2009 |
| Dimensions | 135mm x 215mm x 25mm |
| Language | English |
| Pages | 327 |
| Publisher | IVP |