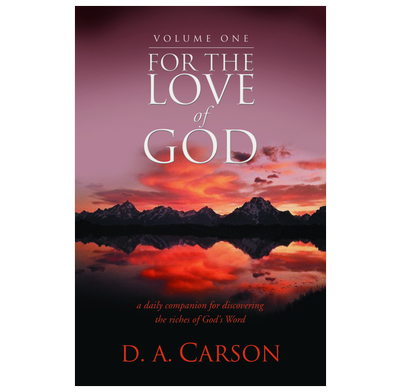 For the Love of God: Volume 1
A daily companion for discovering the treasures of God's Word
A daily devotional guide following Robert Murray M'Cheyne's Bible-reading plan.
A daily companion for discerning the riches of God's word
'Oh, how I love your law … Your statutes are my heritage for ever; they are the joy of my heart ... '
Psalm 119:97, 111
'At their best,' writes Don Carson, 'Christians have saturated themselves in the Word of God … The means by which God sanctifies men and women, setting them apart as his own people, is the Word of truth.'
Many people, however, would admit that they have allowed the pressures of life to crowd out serious and thoughtful reading of the Bible. Also, in a culture that has moved away from a Christian worldview, the Bible's unwavering proclamations and fantastic stories seem ever stranger. The big picture of the Bible is gradually fading from view.
For the Love of God encourages us to face these challenges. Now, more then ever, the need to read the Bible and to grasp its relevance for our lives is critical.
This devotional guide follows Robert Murray M'Cheyne's Bible-reading plan, taking you through the New Testament and Psalms twice and the Old Testament once. Don Carson has written thought-provoking comments and reflections to accompany one of each day's scriptural passages. And, most uniquely, he offers a perspective that places each reading into the larger framework of history and God's eternal plan, in order to deepen our understanding of his sovereignty and the unity and power of his Word.
Specification
| | |
| --- | --- |
| Author | Don Carson |
| ISBN | 9781844745067 |
| Format | Paperback |
| First published | October 2005 |
| Dimensions | 173mm x 250mm x 30mm |
| Print size | 10pt |
| Language | English |
| Pages | 400 |
| Publisher | IVP |
"Invaluable resource for growth"
This provides you with the whole NT and Psalms and half the OT in a year. The readings are often uncannily connected - we are benefitting from Robert Murray McCheyne's wonderful choice of daily readings. Don Carson provides a brief commentary on the passages read - they all point to the big picture and help the reader really 'get' the bible story as they read. I move from Book 1 to Book 2 at the end of every year and so have read the OT three times and the NT and Psalms six times in the last 6 years. I feel this has been the engine that has fuelled my growth in knowledge and Christlikeness over that time. I rarely find the regularity in my work/life schedule to read each day. These readings are short enough to be caught up on about every three days or so; I'd advise that this book is taken on every holiday to avoid having a mammoth catch up session upon return - however I have had to have these once or twice a year I guess. It is just do-able!
I cannot recommend this resource highly enough! Invaluable.