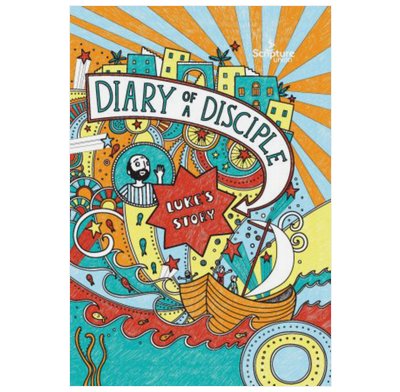 Diary of a Disciple: Luke's Story
Luke's Gospel in a quirky, accessible, doodle style. Perfect for 8-10 year olds.
Diary of a disciple: Luke's story is a contemporary retelling of Luke's Gospel. Written in a quirky, accessible, doodle style, Diary of a disciple offers a way into the Bible for 8-11 year olds.
It encourages children to interact with the stories they read, offering space for them to write/draw in the book alongside the main text.
Specification
| | |
| --- | --- |
| Age range: | 8 - 11 |
| Author | Gemma Willis |
| ISBN | 9781785064708 |
| Format | Hardback |
| First published | September 2016 |
| Dimensions | 149mm x 210mm x 33mm |
| Language | English |
| Pages | 352 |
| Publisher | Scripture Union |
"Brilliant!"
We bought this book for our six year old daughter and she is loving reading it! The writing style is pitched brilliantly and the stories are retold in ways that make them a really easy read (eg calling Phillip, Phil or Simon the sorcerer, Magic Simon)... The illustrations make the text very engaging. We are currently feeling very blessed by this book!
"Really fun, easy read"
Very honest to the original yet presented in an easy to read format which really highlights key points of the text. This book will get your children reading the bible without it seeming like a chore! Get it for your kids, your god-children and any others you know. In fact I quite like it as an adult! Would suit age 5 upwards.