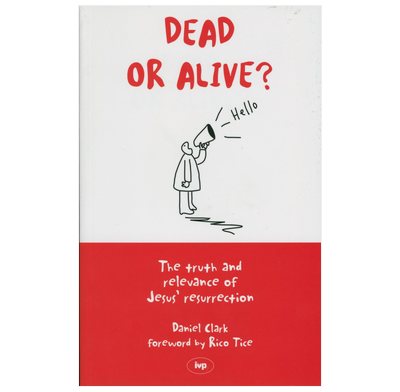 Dead or Alive?
Dan Clark explores the evidence for Jesus' resurrection so we can judge if the Christian faith is a sham or a certainty.
Is Jesus dead or alive?
Christians claim that Jesus of Nazareth rose bodily from the grave, three days after being brutally executed. If that claim isn't true, Jesus was nothing more than a good man, and the whole of the Christian faith collapses in a pile of dust. But what if it is true?
Daniel Clark shows how Jesus' resurrection is the key which unlocks answers to some of life's biggest questions:
- Is there anybody out there?
- Why is there so much suffering in the world?
- Does life have a meaning or purpose?
Using real-life stories of those who have come to believe in Jesus' resurrection, he explores the evidence so that we can make our own, informed conclusion. If Jesus is alive rather than dead, then another altogether more startling question emerges …
Contents
Introduction: Why read a book about Jesus' resurrection?
Part 1: Is it relevant?
1. Is there anybody out there?
2. Why hasn't God done something about all the suffering?
3. What happens when we die?
4. Does life have meaning or purpose?
5. Which religion, if any, is true?
Part 2: Is it true?
6. Looking at the evidence
7. Is the evidence reliable?
8. Dead...?
9. or Alive?
Part 3: So what?
10. What are the implications of Jesus' resurrection?
11. Life from death
12. Dead or alive
13. Meeting the risen Jesus
Postscript: What next?
Specification
| | |
| --- | --- |
| Author | Daniel Clark |
| ISBN | 9781844741564 |
| First published | April 2007 |
| Dimensions | 126mm x 198mm x 12mm |
| Language | English |
| Pages | 160 |
| Publisher | IVP |
Other information
'Dan Clark gives the honest searcher and indeed the cynical sceptic a great deal of compelling material to consider.'
from the foreword by Rico Tice
'The Christian hope stands or falls on the basis of the resurrection of Christ. Daniel Clark engagingly and persuasively helps us to sift the evidence.
Presenting us with the transforming experiences of ordinary people, he challenges his readers to consider the reality and power of Jesus' resurrection, to explore it's significance for their own lives, and to encounter for themselves the presence of the Risen Lord.'
The Rt Revd Nigel McCulloch, Bishop of Manchester
'Brought together in an attractive modern package, this evangelistic book brings together compelling reasons for the resurrection for today. Daniel Clark argues clearly and attractively, and presents a straightforward challenge to the modern reader. Illustrated with witty cartoons, and peppered with testimonies from a wide variety of people, this will be an excellent resource for bringing the power and meaning of the resurrection to modern minds.'
Tim Thornborough