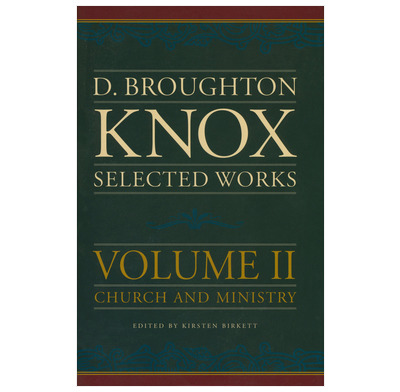 D B Knox: Collected Works (Vol II)
Church and Ministry
A selection of DB Knox's writing on church and ministry.
'It is not too much to say that no other contemporary Australian Churchman has had a more original mind or has shown a more penetrating insight into questions of pure Theology, and that insight was derived from his understanding of the supreme revelation of truth in the bible.'
Sir Marcus Loane's assessment of D B Knox would be shared by many who knew him. And yet the majority of Christians, both in Australia and overseas, know little of Broughton Knox's massive influence on Australian Christianity, let alone his impressive literary output.
This volume, the second in the series, aims to bring that output back into the public arena. It contains a selection of Broughton Knox's varied writings on church and ministry, many of them previously unpublished.
It includes:
- Material relating to Dr Knox's influential doctrine of church, know as the 'Knox-Robinson' thesis.
- A fascinating study on New Testament Baptism, previously unpublished.
- Statements on the Lord's Supper, and a refutation of Roman Catholic views.
- Indexes which make it a useful reference for students and pastors.
This stimulating volume is an excellent resource fo all thoughtful Christians.
Contents
Preface
Part 1: The Church
1. The church and the people of God in the Old Testament
2. The church
3. De-mythologizing the church
4. The Spirit, the church and the denomination
5. Christian unity
6. The body of Christ
7. What is Christianity?
8. Acts 2:42
9. The biblical concept of fellowship
10. The church, the churches and the denominations of the churches
11. Sermon notes
12. Notes on authority in the church
13. The office and work of a Bishop in the church of God
Part 2: Thirty-Nine Articles
Part 3: Ministry
1. Women's ministry
2. The ordination of women
3. What must not change in a changing ministry
4. Worship I
5. World evangelism
6. Let the word do it
7. Repentance
8. The priority of preaching
9. Ministry of women
10. Heaven is People
11. Chapel sermon
Part 4: Baptism and the Lord's Supper
1. New Testament baptism
2. Addition to manuscript on baptism
3. A short statement on the Lord's Supper
4. Note on the Lord's Supper
Part 5: The Lord's Supper from Wycliffe to Cranmer
Part 6: Roman Catholicism
1. Purgatory
2. The anniversary of the Reformation
3. The role of the Pope
4. Transubstantiation
5. Holy year
6. Trust God not relics
7. Bible forgiveness and Roman Catholic confession
8. Authority in life
9. Worship II
General index
Bible passages index
Specification
| | |
| --- | --- |
| Author | D Broughton Knox |
| ISBN | 9781876326562 |
| Format | Hardback |
| First published | January 2004 |
| Dimensions | 160mm x 240mm x 35mm |
| Language | English |
| Pages | 444 |
| Publisher | Matthias Media |
"Far exceeded my expectations!"
(Review written for 'D B Knox: Collected Works (Vol I)')
I just bought a book from these guys which is out of print, the price of the book plus postage worked out at less than half the price from anywhere else. Delivery was very quick, I live in Australia. Book was in perfect condition.

The process was simple and easy, the product was perfect, and I highly recommend buying through thegoodbook.com.uk