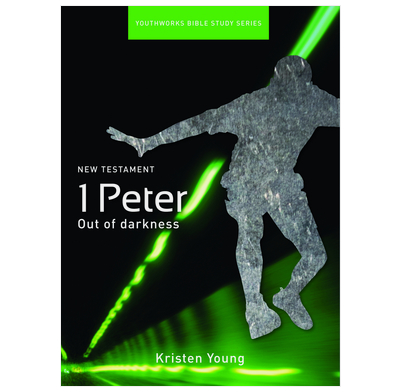 1 Peter: Out of darkness
Seven studies looking at how to live God's way in the world.
We are waiting for a decision from the publisher, Youthworks, on whether they're going to continue this series and continue to supply the UK with stock. Apologies for this delay. We'll update this page as soon as we hear.
Where do you go when everything seems dark? How do you live in a world where everyone around you seems to hate everything you love? How do you survive in the middle of a disaster zone?
1 Peter speaks to people who are in trouble – it provides encouragement to hurting people. These seven studies look at living God's way, particularly as we respond to hardship, nastiness, persecution and slander. By imitating Christ, we can use our lives as a way of showing God to others and be a light in the darkness.
More than ever, young people today need answers to life's big questions. The Youthworks Bible Study series is designed to challenge and encourage young people to be confident in their faith in Jesus in a changing world. The studies have been written by experienced youth leaders and are arranged into one of three categories—Old Testament, New Testament and Topical—for a clear overview of the Christian message.
Contents
Introducing 1 Peter
1. When the darkness seems heavy (1 Peter 1:1-12)
2. Children of light (1 Peter 1:13-2:10)
3. Shaped by light (1 Peter 2:11-17)
4. Lighting the household (1 Peter 2:18-3:7)
5. Light in the darkness (1 Peter 3:8-22)
6. Living in the light (1 Peter 4:1-19)
7. Standing firm in the light (1 Peter 5:1-14)
Specification
| | |
| --- | --- |
| Age range: | 11 - 16 |
| Author | David Younts |
| ISBN | 9781921460760 |
| Format | Saddle stitch |
| First published | January 2012 |
| Dimensions | 162mm x 224mm x 3mm |
| Language | English |
| Pages | 36 |
| No. of studies | 7 |
| Publisher | Youthworks |