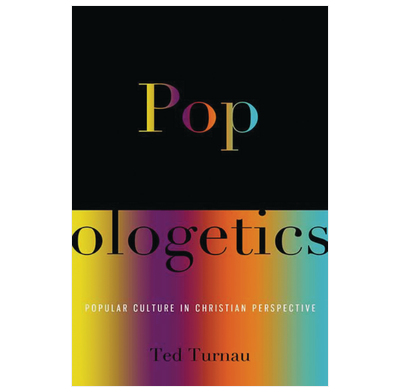 Popologetics
Popular Culture in Christian Perspective
Popular culture is all around us, and it does tend to get under our skin. It does influence us.
Popular culture surrounds us, shaping our worldviews. We can ignore it, withdraw from it, condemn it, or celebrate it. Pop-ologetics helps the reader understand the grace and idolatry woven into popular culture from a biblical perspective, why Christian approaches often fail, and how to engage its worldview challenges.
Part I provides a foundation by exploring what popular culture and worldview are - and the relationship between them. It also lays out a brief biblical theology of popular culture.
Part II critiques the ways Christians typically approach popular culture, and why those perspectives fall short of a balanced, biblical approach.
Part III lays out a positive method (called "pop-ologetics") for engaging the messy mixture of grace and idolatry of popular culture. This method is then put into practice by critiquing five examples of popular culture and how to use this method practically with friends and family.
Contents
Introduction: "Why Would Anybody Want to Study That?"


Part 1: Grounding


1. Puzzle Pieces: Popular Culture and Worldview
2. The Conversation between the Beaver and the Tree: The Influence of Popular Culture on Worldview
3. R.S.V.P.: What Is a Worldview Apologetic?
4. Toward a Theology of Popular Culture: What Creation, Fall, and Redemption Tell Us about Popular Culture


Part 2: Some Not-So-Helpful Approaches to Popular Culture
5. Problem? What Problem?: The "What, Me Worry?" Approach
6. Don't Touch That Dial—It's Dirty!: The "Ew-Yuck" Response
7. But It's So Jejune: The "We're-Above-All-That" Approach
8. A Word Is Worth a Thousand Pictures: Imagophobia
9. It's All Good!: Cheerleaders of the Postmodern


Summary and Overview of Part 2


Part 3: Engaging Popular Culture: Why Critique Popular Culture?
10. Popologetics: Reading and Responding to Popular Culture
11. Popologetics Workshop: Practicing a Christian Reading of Popular Culture


Summary and Conclusion to Part 3


12. The Way Forward: Objections and Conclusions
Specification
| | |
| --- | --- |
| Author | Ted Turnau |
| ISBN | 9781596383890 |
| Format | Book |
| First published | 2012 |
| Dimensions | 154mm x 230mm x 24mm |
| Language | English |
| Pages | 368 |
| Publisher | P&R |