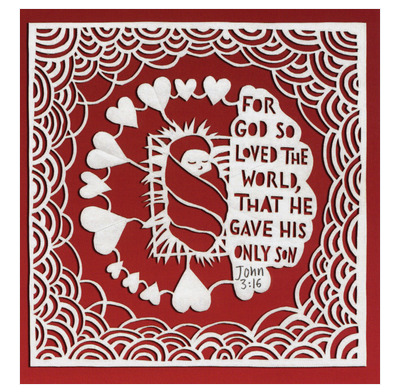 Christmas Tract - For God So Loved...
Tract explaining why John 3 verse 16 is the most famous Bible verse in the world.
You may have seen it at football matches, held up as a banner in the crowd. You may have seen it as a poster outside a church or at a railway station. John 3 verse 16 is the most famous Bible verse in the world. Why? Because in a few short, memorable words, it sums up the meaning of Christmas, Easter, the Christian faith and of life itself.
Free extras
Specification
| | |
| --- | --- |
| Author | Tim Thornborough |
| ISBN | 9781906334451 |
| Format | Tract |
| First published | September 2008 |
| Dimensions | 99mm x 105mm x 0.4mm |
| Language | English |
| Pages | 6 |
| Publisher | The Good Book Company |
"Christmas message"
I liked the tract and I have ordered a few so I can do an annual activity which is to knock on our neighbour's doors and provide them with a tract and a baked goodie that my son and daughter decide to make. So far ours went well and we prayed as a family whilst we spoke to our neighbourhood.
"Excellent compact explanation"
Excellent compact explanation of an important message. Bought these as an extra when buying Christmas cards. So glad I did. Was very happy to leave these out for people to pick up and for them to be handed out. Pray that the seed grows!
"Nice little Christmas booklet"
Our street outreach team used these booklets for the few weeks leading up to Christmas this year. A helpful, simple explanation of the Gospel to leave with people as they stopped to listen to the preaching or at our book table. The front design is creative and eye-catching. Good price too! The one downside is that there's not much room to put contact details on the back for followup.
"Very efficient"
I had to order the resources just before leave for a holiday so I had them posted to another address. Everything was processed quickly and delivered in time for the event. Thanks to a brilliant team and efficiency. Great work.
"'For God so loved the world..' Captures the essence of Christmas."
I purchased these tracts to give out at my local church. The theme verse John 3 v16 summarises the birth, crucifixion and resurrection of Christ.
The price of the tract was great. However, the font and actual size of the the tract was too small.
"Pretty and practical"
We put these tracts in with our Moses basket baby gifts for vulnerable non Christians, as we write john 3:16 in our cards this tract is the perfect introduction.......simple but thought provoking, love it...thank you xxx
"Good to have on you"
Great service thanks! This has reminded me to buy some more stuff
"Great to give away"
We gave these out to everyone as they left the carol service. Hopefully they will read them as they are simply written with the Gospel message at the centre. Great tracts and design. Thank you
"Amazing Christmas Track"
Chester Christian union used the track as a Christmas mission and the responses we got were outstanding! People really engaged with the simplicity of the gospel summary making it accessible to all. Overall we found as a CU that it raised a good amount of conversation with friends but could also be easily understood alone. We particularly enjoyed the design of the track making it attractive for non Christians to open and the prayer within the booklet people could easily open themselves to God. The track is also reasonably priced and not of much cost to any who wish to use it. Therefore it is definitely recommended to use for any event during the Christmas period.
"A Christmas tract that is ideal for any season of the year"
This tract is appropriate to be given to anyone at any time of the year. I liked the way it broke John 3:16 into five uncomplicated and stimulating sections. I thought when it stated "In Jesus' life we see the truth about both God and ourselves. We are more messed up and broken than we know, but more deeply loved than we can imagine" that it was an excellent summary of The Gospel.