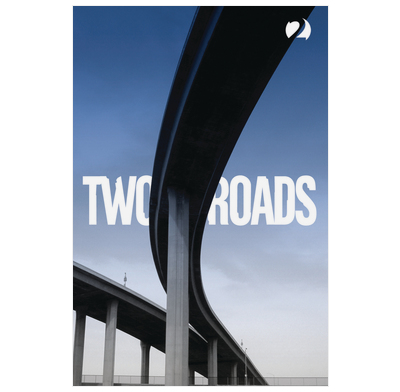 Two Roads
Two Roads explains the Christian gospel in simple, easy-to-read language.
Life is a journey — from the cradle to the grave.
And according to the Bible, there are really just two roads through life — God's road and our road.
This short booklet explains how we can start walking on God's road.
Two Roads has been adapted from the Two Ways to Live gospel outline. It explains the Christian gospel in simple, easy-to-read language. For more information about Two Ways to Live, go to www.twowaystolive.com.
Specification
| | |
| --- | --- |
| Author | Tony Payne, Phillip Jensen |
| ISBN | 9781921068980 |
| Format | Other printed item |
| First published | February 2008 |
| Dimensions | 90mm x 135mm x 0.4mm |
| Language | English |
| Pages | 17 |
| Publisher | Matthias Media |
"Amazing, I want some more when you get some in."
I've given them all away and I'm needing some more. Very well written.
"Excellent"
I have used the Two Roads tracts since they were first published and have given away a couple of hundred. I rarely hand them out without giving the gospel message verbally beforehand. I share my faith with people in very special circumstances. They are usually people whom I haven't met before and I take the opportunity to ask them about their own lives and have a general conversation beforehand. I then ask them "How they feel about spiritual matters?" and find out where they stand. If appropriate, I will ask permission to share a message of encouragement about Jesus, including my own personal experience of him. Eighty percent of them accept and I then have maximum 3-4 minutes to give a very brief presentation of the gospel message. This is essentially a summary of the Two Roads tract. There is usually not much time left for further conversation and I am unlikely to meet the people again. I feel confident that the words of Tony Payne and Phillip Jenson in Two Roads will allow the person to get a fuller picture in their own time and that it will reinforce the words I have spoken to them and it gives me an additional material for prayer - asking that the Holy Spirit will use these tracts in conjunction with my own words..
"2WTL in conversational style with roadsigns and photos"
I have used this with couples wanting their child baptized. Because the writing is conversational rather than literary I've felt able simply to read it through to them without needing to refer to the 2WTL diagrams (which are relegated to small Australian-style road signs). It hits home clear and true.
I have two minor quibbles. The pictures made it feel as if I was advocating an American Christ - any chance of a British edition? And the phrase 'Jesus gives everyone the chance to wipe the slate clean' seems to me somewhat unfortunate.