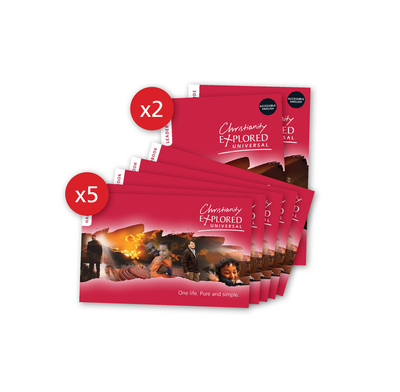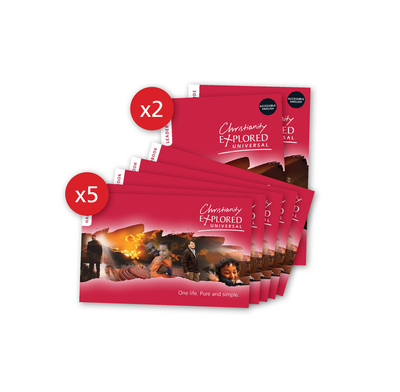 Christianity Explored Universal: Starter Pack
Save 20% with this great value pack - ideal for anyone wanting to start a course
Part of the Christianity Explored series.
Watch the participants' and leaders' trailer
The Christianity Explored Universal Starter Pack contains five copies of the Handbook and two copies of the Leader's Guide. It is ideal for people wanting to start a course and represents a 20% saving on buying the items separately.
The Universal edition of Christianity Explored is designed to be universally accessible with a special emphasis on clear and simple English.
Written in a Bible study format, participants discover the life of Jesus together as they work through eight sessions in Mark's Gospel. Use of the CE DVD is entirely optional.
It is ideal for International students or anyone who would benefit from a Bible study format and straight-forward, everyday English.
• Revised and updated from the "English made easy" edition
• Eight Bible studies in Mark's Gospel
• Written in simple and clear English
• Includes help in running a course, detailed notes for leading each Bible study, answers to common questions from Mark or about Christian belief
• Additional resource material available as free downloads
Free extras
Specification
| | |
| --- | --- |
| Contributors | Christianity Explored |
| ISBN | 9781908762252 |
| Format | Multiple-component retail product |
| First published | May 2012 |
| Dimensions | 152mm x 229mm x 34mm |
| Language | English |
| Publisher | The Good Book Company/CE |
Other information
Absolutely superb! Simplicity and ease of use characterise this new course about Jesus. Everything is uncluttered with an economy of words. I've been secretly longing for a course better atuned to many of the folk around our table - this is it!
- Alex Bedford, Street Evangelist, Glasgow, UK
I'm thrilled about the new Universal edition of Christianity Explored. It features everything people love about the main course, which is at heart a desire to allow Mark's Gospel to speak for itself and the Lord Jesus to walk off its pages, with a simplicity of language and ease of use which makes it accessible to an even wider range of people.
- Rico Tice, Assistant Minister, All Souls Church, Langham Place, London, UK
"Useful for our bilingual Bible study group."
(Review written for 'Christianity Explored Universal Handbook')
It's nice to have a small and inexpensive study guide we can use with students in a bilingual Bible study (English and Japanese). The introduction page and the map are helpful for newcomers. The side notes and "Bible Words" are helpful too, although some of the definitions use somewhat difficult words to explain other difficult words.
We use a bilingual Bible when we read the scripture passages, and we also watch the Christianity Explored presentations on DVD. This seems to be working well. Since the DVD presentations move very quickly, it's a bit hard for some of the students to take it all in while they are watching and reading subtitles at the same time. Having the universal handbook helps them focus on main points (although the content of the Handbook does not always follow the sequence in the DVD presentation exactly).
The members of our group have a fairly high level of English proficiency--in reading especially. For students who are not so comfortable reading English, this text would probably be difficult.
"Very Helpful"
(Review written for 'Christianity Explored Universal Handbook')
We are using the handbooks in a weekly homegroup made with international students in France. The Universal version is very useful for sharing the gospel with clear words and with people not fluent in English. Thank you for this support!