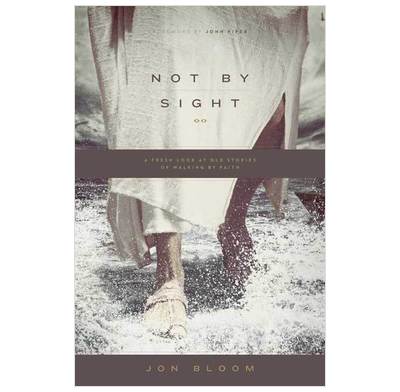 Not by Sight
A fresh look at old stories of walking by faith
Trusting Jesus is hard, especially when times are tough. This book helps us trust God's promises and faithfulness.
Believing is hard. Painful trials and confusing circumstances tempt us to doubt the promises of God, pushing us toward disappointment and despair.
In this encouraging book, Jon Bloom, president and co-founder of Desiring God Ministries, sets out to bolster Christians' confidence in God through imaginative reflections on 35 stories from the Bible. The examples of characters such as King David, Zacchaeus, and the Apostle Peter challenge readers to trust God over and against their unreliable perceptions of the world.
These creative and devotional meditations highlight God's trustworthiness seen in the stories of the Bible and explore practical implications for everyday life, helping readers find rest in the faithfulness of God.
Contents
Foreword by John Piper
A Word to the Reader
Gratitude
1 "Where Is Your Faith?" - James Zebedee and Fear
2 "Neither Do I Condemn You" - The Adulteress and Guilt
3 She Still Had to Go Home - The Adulteress and Sin's Consequences
4 Doubt in the Darkness - John the Baptist and Doubt
5 Dismembering an Idol - Zacchaeus and Idolatry
6 Why Are You Disappointed? - Joseph Barsabbas and Disappointment
7 Can You Bear Uncertainty? - Would-Be-Disciple and Provision
8 "I Will Never Believe" - Thomas and Skepticism
9 The Night the Angel Didn't Come - James Zebedee and Death
10 Facing a Painful Decision - Joseph the Carpenter and Guidance
11 Stables of Desperation Are the Birthplaces of God's Grace - Joseph the Carpenter and Trust
12 (Un)Planned Detours - Joseph the Carpenter and Guidance
13 "Do Not Be Afraid" - Jehoshaphat and Fear
14 What Love for God Looks Like - Simon the Pharisee and Worship
15 When a Rock Sunk Slowly - Peter and Faith
16 Faith That Makes Jesus Marvel - The Centurion and Faith
17 Are You Content with Weaknesses? - Paul and Humility
18 Ask! - The Leper and Provision
19 "Do You Believe This?" - Martha and Death
20 When You Aren't Sure What to Do Next - Peter and Waiting
21 Jesus Chooses and Uses Failures - Peter and Restoration
22 When a Rebuke Became a Reward - Zechariah and Unbelief
23 Hope for Our Beloved Unbelievers - Jesus's Siblings and Evangelism
24 Success Can Be Perilous - King David and Selfishness
25 More Than Enough - Philip and Provision
26 God's Purposes Can Be Opposite of Our Perceptions - The Man Born Blind and Suffering
27 The Eyes Jesus Opened First - Cleopas and Disillusionment
28 "What I Am Doing You Do Not Understand Now" - Peter and Sanctification
29 Staying Faithful When Things Get Worse - Joseph and Perseverance
30 Serve in the Shadow God Places You - Andrew and Humility
31 The Day of Your Deliverance Is Decreed - Disabled Woman and Suffering
32 Has Jesus Been Worth It? - Paul and Christian Hedonism
33 Powerful, Pragmatic Pawn of Providence - Pontius Pilate and Governing Authorities
34 "Follow Me" - Levi and Grace
35 When Following Jesus Means Going Home - The Gadarene and Appointment
General Index
Scripture Index
Specification
| | |
| --- | --- |
| Author | Jon Bloom |
| ISBN | 9781433535932 |
| Format | Paperback |
| First published | May 2013 |
| Dimensions | 132mm x 202mm x 12mm |
| Print size | 9pt |
| Language | English |
| Pages | 208 |
| Publisher | Crossway |