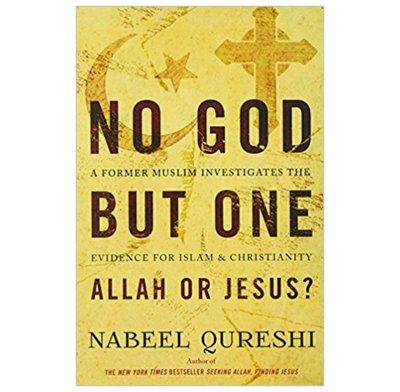 No God But One: Allah or Jesus?
A Former Muslim Investigates the Evidence for Islam & Christianity
Nabeel provides a thorough and careful comparison of the evidence for Islam and Christianity - evidence that wrenched his heart and transformed his life.
In the New York Times best selling book No God but One: Allah or Jesus?, Nabeel Qureshi examines the most important questions at the intersection of Islam and Christianity:
- How do Christianity & Islam differ?
- Are the differences significant?
- Can we be confident that either religion is true?
- Is it worth sacrificing everything for the truth?
Nabeel shares stories from his life and ministry, casts new light on current events, and explores pivotal incidents in the histories of both religions, providing a resource that is gripping and thought-provoking, respectful and challenging.
Readers of Qureshi's first book, Seeking Allah, Finding Jesus, will appreciate this careful and respectful comparison of Islam and Christianity. Both religions teach that there is No God but One, but who deserves to be worshipped, Allah or Jesus?
For free video discussions, visit http://www.nabeelqureshi.com/no-god-but-one/.
Contents
Preface
Prologue: Fatima's Dilemma
QUESTION 1: ARE ISLAM AND CHRISTIANITY REALLY ALL THAT DIFFERENT?
Introduction to Question One: No God but One
PART 1: SHARIA OR THE GOSPEL: TWO DIFFERENT SOLUTIONS
1. The Way to Life
2. Comparing Sharia and the Gospel
3. Questioning Grace
4. Diagnosis and Deliverance
PART 2: TAWHID OR THE TRINITY: TWO DIFFERENT GODS
5. The Islamic Inquisition
6. Comparing Tawhid and the Trinity
7. Questioning Complexity
8. Do Muslims and Christians Worship the Same God?
PART 3: MUHAMMAD OR JESUS: TWO DIFFERENT FOUNDERS
9. The Council of Nicaea
10. Comparing the Messenger and the Messiah
11. Questioning the God-Man
12. Libya's Best Friend
PART 4: THE QURAN OR THE BIBLE: TWO DIFFERENT SCRIPTURES
13. Burning Scripture
14. Comparing the Quran and the Bible
15. Questioning Texts
16. The First Burning of the Quran
PART 5: JIHAD OR THE CRUSADES: TWO DIFFERENT HOLY WARS
17. The First Crusade
18. Comparing the Traditions of the Founders
19. Questioning Christian Peacefulness
20. Jesus Versus Jihad
QUESTION 2: CAN WE KNOW WHETHER ISLAM OR CHRISTIANITY IS TRUE?
Introduction to Question Two: Investigating Islam and Christianity
PART 6: DID JESUS DIE ON THE CROSS?
21. The Positive Case: Unanimous Records
22. The Islamic Response: It Was Made to Appear So
23. Assessing the Islamic Response: The Quran and the Historical Jesus
24. Conclusion: Jesus Died by Crucifixion
PART 7: DID JESUS RISE FROM THE DEAD?
25. The Positive Case: The Best Explanation of the Facts
26. The Islamic Response: All Paul's Fault
27. Assessing the Islamic Response: Paul and the Disciples in Proper Perspective
28. Conclusion: Jesus Rose from the Dead
PART 8: DID JESUS CLAIM TO BE GOD?
29. The Positive Case: Jesus Was Always God
30. The Islamic Response: Did Jesus Really Say 'I Am God?'
31. Assessing the Islamic Response: Letting the Context Speak
32. Conclusion: Jesus Claimed to Be God
A Midway Summary to Question Two: Assessing the Case for Christianity and Islam's Efforts to Account for Christian Origins
PART 9: IS MUHAMMAD A PROPHET OF GOD?
33. The Positive Case: The Foretold Paragon
34. The Response: Don't Forget the Counterevidence
35. Assessing the Response: Hadith Versus History
36. Conclusion: The Dilemma of the Historical Muhammad
PART 10: IS THE QURAN THE WORD OF GOD?
37. The Positive Case: There Is No Other Book Like It
38. The Response: In What Way Is That Miraculous?
39. Assessing the Response: What Kind of Book Is the Quran?
40. Conclusion: There Is No Compelling Reason to Think the Quran Is the Word of God
Conclusion to Question Two: Islam or Christianity? The Evidence Is Clear
Conclusion: Is the Truth Worth Dying For?
Notes
Free extras
Specification
| | |
| --- | --- |
| Contributors | Nabeel Qureshi |
| ISBN | 9780310522553 |
| Format | Paperback |
| First published | September 2016 |
| Dimensions | 138mm x 212mm x 19mm |
| Language | English |
| Pages | 256 |
| Publisher | Zondervan |