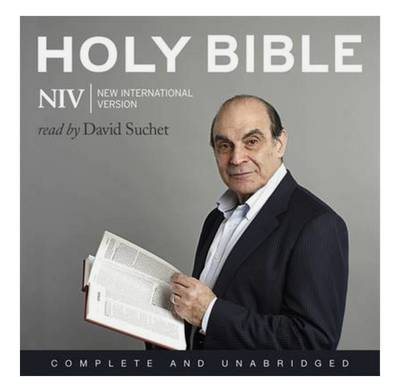 NIV Audio Bible
Complete and Unabridged
The entire NIV bible read by David Suchet.
PLEASE NOTE: This is an MP3 CD and will only play on compatible CD players.
Ever since he became a Christian at the age of forty, it has been Poirot actor David Suchet's dream to make an audio recording of the whole Bible. In between filming the final episodes of Poirot, David Suchet spent over 200 hours in the recording studio to create the very first full-length audio version of the NIV Bible spoken by a single British actor.
The 80-hour recording is available on MP3 CD.
Specification
| | |
| --- | --- |
| Contributors | David Suchet |
| ISBN | 9781444786408 |
| Format | CD-Audio |
| First published | April 2014 |
| Dimensions | 130mm x 132mm x 19mm |
| Language | English |
| Publisher | Hodder & Stoughton |
"Excellent!"
Melodious, mellifluous enchanting, engaging, reflective and meditative.
David Suchet really brings to life the Scriptures in a gentle and meaningful way.
"Brilliant audio Bible"
Beautifully clear and expressive reading by David Suchet. I find that listening to the Bible helps me to see the bigger picture, especially in some of the Old Testament books. I would recommend it to anyone who wants to see the wider sweep of God's dealings with His people through their history
"Great for taking in big chunks of scripture"
I've been reading some big chunks of the bible from Joshua - 1 Kings over the last month or so, and have found the recordings invaluable to help me take in the narrative. It's easy to skip over details or repeated words and phrases when reading on the page, but listening as well as reading is helping me to pick them up. David Suchet reads so well. I listen whilst out for a run, on the tube or cooking!
"A great resource"
I bought this for my wife to listen to on her journeys to and from work. The Bible was written first of all to be read aloud and heard, and we've found that David Suchet's reading has brought alive the word of God. The perfect way to prepare for a busy day in school!
"Good purchase"
It is often recommended that we read the Bible through every year but I think most of us find this difficult due to other commitments and the difficulty of concentration. This is why I purchased the audio tapes which can be listened to while travelling in the car. The actual readings are superb and so easy to listen to and absorb. I think my coverage will be better than eve this year!
"Best buy! Strongly recommend."
A wonderful way to hear the texts of the Bible brought to life. I listen while travelling to and from work and find myself totally engrossed. So many details come to light that I have not noticed before. David Suchet brings great expression that helps to catch the imagination. I would strongly recommend this audio Bible.