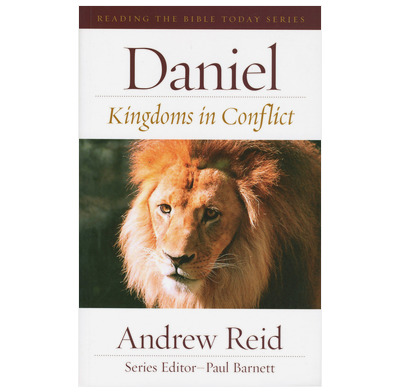 Kingdoms in Conflict: Reading Daniel Today
Readable, practical and accessible commentary on the book of Daniel.
"It is good to see this series of non-technical commentaries. Such books are greatly needed. I look forward to using this series, especially among young Christians."
- Dick Lucas, St Helen's, London
Andrew Reid is well-equipped to write for this series, having pursued post-graduate studies in the history of the period in which Daniel was written.
Andrew's commentary on Daniel is the end product of some years of 'field testing' the material with various campus groups among whom he works as a university chaplain.
He is deeply conscious that the books of the old Testament must be read through Christian eyes. So understood, Daniel will prove nourishing to Christians today. No part of the Old Testament is more significant to Jesus than Daniel. Here we meet the kingdom of God, one like a Son of Man, the Saints of the Most High and the Abomination of Desolation.
I am confident that Kingdoms in Conflict will prove a significant and outstanding addition to this series.
- Dr Paul Barnett, Series Editor.
Andrew Reid now lectures at Ridley College Melbourne in Old Testament studies. Previously he was National Director of the Australian Fellowship of Evangelical Students.
Part of The Good Book Company's Commentary List, this commentary has been selected because it not only deals faithfully and carefully with God's Word but is readable, practical and accessible as well.
Contents
Foreword
Reading Daniel Today 1
1. Why read Daniel?
2. The trouble with Daniel
3. The shape of Daniel
4. How to read this book
5. The world of Daniel
Reading Daniel Today 2
6. Knocked down but not knocked out
7. The war of kings
8. Understanding the kingdom of God
9. When the heat's turned on
10. The cost of discipleship
11. No longer human
12. The writing is on the wall
13. Understanding the kingdom
14. Choosing your allegiances
15. Shutting the mouths of lions
16. One like a Son of Man
17. Pondering dreams and visions
18. Understanding the kingdom of God
19. Reaching for heaven
20. An end time 'in sight'
21. How long, O Lord?
22. Living with God's answer
23. A heavenly messenger
24. Bright shining as stars
25. Understanding the kingdom of God
26. Some final reflections
Maps
1. The events of 605BC
2. Waiting for the end
Specification
| | |
| --- | --- |
| Author | Andrew Reid |
| ISBN | 9780949108685 |
| Format | Paperback |
| First published | January 2004 |
| Dimensions | 138mm x 215mm x 15mm |
| Language | English |
| Pages | 244 |
| Publisher | Aquila Press |
"Not the best out there"
I found this commentary a little too sketchy and he never really seeks to justify some of the positions he takes on Daniel. Far better are Iain Guguid or Bob Fyall's commentary.
"Not bad but entirely misses out chapter 6 ! "
Nothing on the lion's den.
Just abandons you there and moves you onto chapter 7.