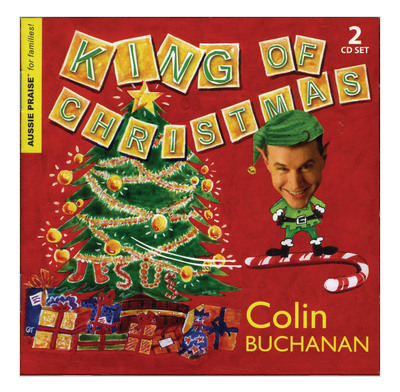 Get ready, get set and GO! Here comes Colin's amazing Christmas album - King of Christmas! Colin follows up his best-selling Jesus Rocks The World with this rip-roaring collection of new songs celebrating the joy and wonder of the birth of God's own Son, King Jesus.
With the songs like the uplifting Happy Happy Day, the rocking Merry Merry Christmas, the funky techno Glory to God in the Highest and the rumpty tumpty The Greatest Christmas Gift (featuring guest vocalist and ventriloquist puppet, Martin Clifford), Colin retells the story of the first Christmas with biblical faithfulness and an irrepressible sense of fun.
King of Christmas is a Chrissy album like no other - sure to become a year-round family favourite! This 2-CD enhanced edition includes instrumental backing tracks, full sheet music, Colin's hand-drawn colouring book and bonus Songs for Christmas including Colin's original recording of his classic, Aussie Jingle Bells.
Contents
Disc One
1. Intro
2. Happy Happy Days
3. On That Very First Christmas
4. The King of Christmas
5. Everybody Get Ready
6. Go Tell It To Australia
7. Merry Merry Christmas
8. Glory to God in the Highest (demo)
9. Glory to God in the Highest
10. Mary's Boy Child
11. Good News (Sing for Joy)
12. The Magi
13. The Greatest Christmas Gift
14. Angels Singin' Glory
15. Jesus Saves! Jesus Saves!
16. Will You Come to Jesus?
17. Who Is He In Yonder Stall
Disc Two
Colin's Extra Songs for Christmas
1. Aussie Jingle Bells
2. It's Christmas Time
3. O Christmas Bush
4. The Word Became Flesh
5. Real Hope
6. Hebrew 1:1-2
7. Jesus is No Fairytale
8. Follow the Saviour
Instrumentals
9. Happy Happy Days
10. On That Very First Christmas
11. The King of Christmas
12. Everybody Get Ready
13. Merry Merry Christmas
14. Glory to God in the Highest
15. Mary's Boy Child
16. Good News (Sing for Joy)
17. The Magi
18. The Greatest Christmas Gift
19. Angels Singin' Glory
20. Jesus Saves! Jesus Saves!
21. Will You Come to Jesus?
Extras
Specification
| | |
| --- | --- |
| Age range: | 4 - 9 |
| Author | Colin Buchanan |
| ISBN | 9783078006693 |
| Format | CD-Audio |
| First published | 2008 |
| Dimensions | 142mm x 124mm x 9mm |
| Language | English |
| Publisher | Wanaaring Road Music |

"Fun and fresh"
My 5 and 8 year old both loved this cd. A nice change from the usual carols but still Christmassy and really gospel focused. Not too annoying for parents either!

"Excellent CD"
Colin Buchanan is a great song writer and singer, not just for kids but adults too. The variety of types of material on this double cd is amazing - Rap, metal, hip hop and everything in between. Great value and fun.

"Fantastic!"
A huge and instant hit with our two boys (aged 4 and 2). Great tunes and lots of Christian truth taught. Highly recommended.

"Excellent for kids of all ages"
With a mixture of serious and not so serious Christmas songs, this double CD has something to please everyone. One highlight for me was the Southern Hemisphere take on Jingle Bells. As usual with Colin the music and lyric sheets are included. Excellent value.

"It's Colin!"
What can I say? It's Colin in all his glory!! Anything that gets children (including my 19 year old who wanted this!) singing wholesome and fun songs must be good news.

"great!"
Catchy tunes and words full of clear teaching about why Jesus came. Used Jesus Saves and Happy, Happy Day around our Nativity Play at church with kids 7-14 enjoying singing it and words printed off for the congregation to join in and take home- hopefully to think about further! Not having to teach the tune for Jesus Saves was a bonus...My younger daughter loves Colin's humour and has been asking for the DVD ever since she heard it.

"Christ centred, fun and musically good!"
Glad we bought this cd. Refreshing for children - and parents! - to listen to thoroughly Jesus-centred songs during the christmas season, with catchy tunes and lyrics which are clear on the gospel. Lyric sheets and music book really useful too - it would be even better to have music for all the songs including those on cd2 - e.g. The Word became Flesh. Agree with comment about a few songs suited to Australian market, but overall the message rings loud and clear - Christ is the King of Christmas (track 2!)

"Great fun"
Colin brings his usual variety of musical genres to this Christmas album. The children enjoyed the fun whilst also hearing some fresh and thought provoking perspectives on the familiar Christmas story. I can see his rewording of "Jingle Bells" to "Jesus saves" making an appearance at church or possibly our Open Air ministry some time! Some songs have a distinctly Australian theme but it's good for the children to be aware that some celebrate Christmas in warm sunny weather!

"very good in parts"
some really fun songs, but some more suited to the Australian market. Children especially loved the rap. One child said "A rap with Jesus in it!" Some did not seem so Christmassy

"Superb!"
This is Colin at his best: tunes you cannot get out of your head; lyrics that don't compromise the real meaning of Christmas; and all wrapped up in Aussie fun. Colin takes us from a thoroughly gospel-centred revision of "Jingle Bells" to how you can tell the gospel using christmas trees, fairy lights and candy cane.

Our two pre-schoolers asked for "Colin Christmas" about five times a day everyday for the whole month of December (and a little bit more). We've managed to convince them that "Colin Christmas" is on holiday for a year but look forward to getting him out next December. By that time, some of the tunes might have stopped buzzing round our heads.