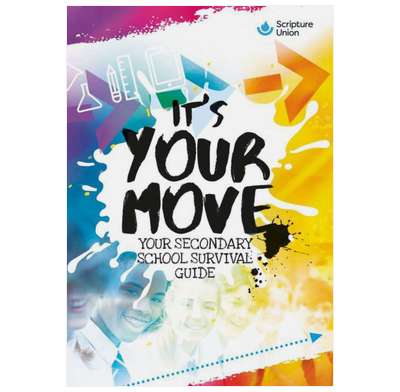 It's Your Move
Your Guide to Moving Secondary School
helps children in Y6 with the transition from primary to secondary school.
It's Your Move! has been given to over one million Y6 children across the UK each year since 2001, as part of a programme helping them make the transition from primary to secondary school.
This revised edition features all-new real-life story profiles and articles, more interactive elements and an updated design for 2015.
- Gives help and advice to children as they make the move from primary to secondary school
- Gives children something fun with which they can remember their primary school - Provides a starting point for lessons and assemblies about moving on up to secondary school
- Gives churches another way to serve their local schools and the children who go to them
- Provides a mechanism for churches to make first contact with local schools, if they don't already have a relationship with them.
So, you're about to move to secondary school? You've probably got loads of thoughts whizzing around in your head! If so, you're holding the right book! It's Your Move! is your fun and friendly guide to moving to secondary school.
Inside these pages, you'll discover lots of advice, together with stories of real people who have already made the move! As well as all that, there are poems and stories, puzzles and quizzes, plus space to make this book your very own. So, what are you waiting for?
Specification
| | |
| --- | --- |
| Age range: | 7 - 11 |
| ISBN | 9781785067334 |
| Format | Paperback |
| First published | January 2019 |
| Dimensions | 148mm x 210mm x 5mm |
| Language | English |
| Pages | 80 |
| Publisher | Scripture Union |
"Helpful"
I have bought this book many times before to give to children I know who are moving on to secondary school. It is a helpful little book and relevant to the age group is for
"Looks good."
I purchased this for one of our youth group who is going up to secondary school in September.
It looks "teen friendly" and covered topics that are likely to arise/ cause anxiety.
I have yet to hear how the student got on with it.