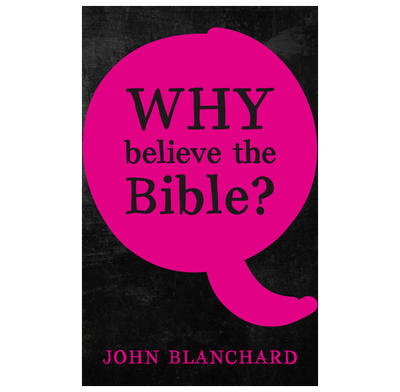 Why Believe the Bible?
John Blanchard's booklet shows why the Bible must be believed.
The Bible is the most revered book in the world; it is also the most reviled.
Millions of people turn to it every day to find inspiration and direction for their lives, yet for 2,000 years no other book has been so hated, vilified and attacked. For many people the Bible is neither loved nor loathed; it is nothing more than an ancient religious document that raises a host of questions.
Many of the Bible's translators have been persecuted, tortured and murdered, and countless copies of their work have been banned or destroyed.
How can we know that the present text is anything like the original?
Is it anything more than folklore?
How can such an old book be relevant in the twenty-first century?
Has science not taken its place as an explanation of the world and our place in it?
Here are the answers.
Specification
| | |
| --- | --- |
| Author | John Blanchard |
| ISBN | 9781783971725 |
| Format | Paperback |
| Dimensions | 110mm x 178mm x 3mm |
| Language | English |
| Pages | 64 |
| Publisher | Evangelical Press |