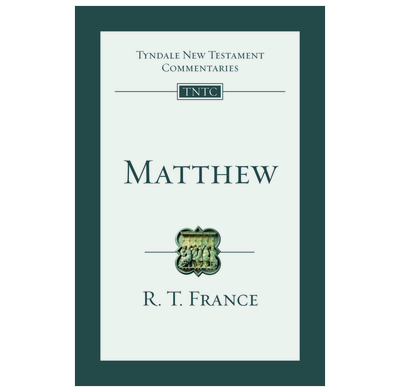 Tyndale NT Commentary: Matthew
Ascertain the truth about Jesus by studying Matthew's biography.
The visit of the Magi, the Sermon on the Mount, the Great Commission: these are only a few of the well-known passages in Matthew's Gospel. Yet it begins with a list of unknown names and apparently irrelevant 'begettings'. The early church may have placed Matthew first in the New Testament because it provides a Christian perspective on the relation between the church and the Jews, an issue that is still important today. R T France tackles this and other key issues in the Gospel with clarity, reliability and relevance.
Part of The Good Book Company's Commentary List, this commentary has been selected because it not only deals faithfully and carefully with God's Word but is readable, practical and accessible as well.
Specification
| | |
| --- | --- |
| Author | R France |
| ISBN | 9781844742677 |
| Format | Paperback |
| First published | September 2009 |
| Dimensions | 139mm x 209mm x 30.8mm |
| Language | English |
| Pages | 422 |
| Publisher | IVP |