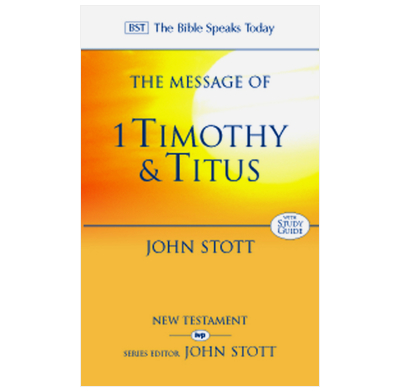 The Message of 1 Timothy and Titus
John Stott presents the reader with Paul's concern for the gospel expressed through his letters to Timothy and Titus.
The apostle's overriding preoccupation throughout his Pastoral Letters is with the truth - that it may be faithfully guarded and handed on. John Stott is at pains to convey Paul's passionate concern for the future of the gospel, and for younger pastors charged with its care.
Paul's concern is as pertinent today. Contemporary culture, John Stott points out, is being overtaken and submerged by relativism and pluralism - an attitude that all so-called 'truth' in fact can make no demand that others be converted to its particular view. The apostle's unambiguous commitment to the definite truth of the gospel is in stark contrast to the contemporary spirit, and his concern for its future needs to grip us today.
Part of The Good Book Company's Commentary List, this commentary has been selected because it not only deals faithfully and carefully with God's Word but is readable, practical and accessible as well.
Specification
| | |
| --- | --- |
| Author | John Stott |
| ISBN | 9780851111728 |
| Format | Paperback |
| First published | July 2009 |
| Dimensions | 135mm x 215mm x 19mm |
| Language | English |
| Pages | 232 |
| Publisher | IVP |