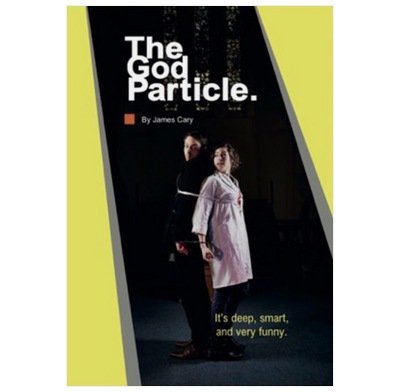 The God Particle DVD
A scientist and a vicar walk into a bar...
Deep, smart and very funny performance investigating science, faith and knowledge.
A scientist and a vicar walk into a bar. Joining forces to solve a perplexing mystery, they discover the real meaning of faith, knowledge, love and the importance of keeping an open mind.
The God Particle is a romantic comedy with a hint of sci-fi from award-winning co-writer of BBC1's Miranda, BBC3's Bluestone 42 and Radio 4's Another Case of Milton Jones. It's deep, smart, and very funny.
"...moments of great hilarity... quite simply a show that just works." **** Three Weeks, Edinburgh Fringe
Filmed at a performance of the play in front of a live audience at The Merlin Theatre in Frome, the DVD includes an interview with the cast, Anna Newcome and Joshua Leese, and the writer/director, James Cary.
Running time c. 80 mins. Suitable for 12+.
Specification
| | |
| --- | --- |
| Author | James Cary |
| Format | DVD video (Amaray) |
| First published | October 2016 |
| Dimensions | 135mm x 190mm x 14mm |
| Language | English |
| Publisher | Zadok Media |
"Interesting"
Read about the DVD in a Salvation Army edition of War Cry - interesting play enacted very well and contained an extra interview with the author, which was well worth watching.
"Funny and engaging"
Having been at the recording of the DVD, I looked forward to watching the finished product. It was great to be reminded of the wonderful evening. The play is funny and very well presented. It contains some great ideas. It may be helpful to have some discussion questions.
"God Particle: Witty & thought provoking "
A fun play to show to a small group which is eager to discuss aspects of science and faith. The play is witty and engaging, drawing you into both the relationship between the two characters and their shared story. At first I found the 'time-jumps' in the play hard to follow, but eventually all becomes clear.
I expect a group might go on to discuss questions around the nature of time, faith/truth, and human curiosity; and the play would provide an excellent catalyst for such discussions.