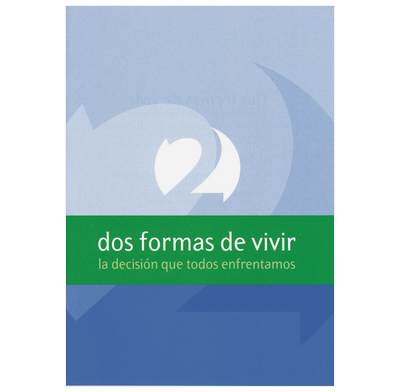 The Choice We All Face (Spanish)
Two ways to live
A Spanish version of The Choice We All Face.
Spanish version
The message at the heart of Christianity is really quite simple–simple enough to be outlined in this little 20-page, full-colour booklet. It is a message from the Bible about God and his Son, Jesus. It is about life and death, and the choice that we all face.
2 Ways to Live is well known throughout the UK and overseas as a simple, clear, challenging outline of the Christian gospel. It has been learnt, personalized and used by thousands of Christians to explain the message of Jesus.
2 Ways to Live: the choice we all face clearly and lucidly explains the gospel using the framework of 2 Ways to Live. An easy-going style, attractive layout and lack of jargon make this an effective evangelistic leaflet for a multitude of uses - from letterbox drops to simply giving to friends.
Specification
| | |
| --- | --- |
| Contributors | Phillip Jensen, Tony Payne |
| ISBN | 9781921068751 |
| Format | Other printed item |
| First published | July 2007 |
| Dimensions | 105mm x 147mm x 1mm |
| Language | Spanish |
| Pages | 20 |
| Publisher | Matthias Media |
Also available in
"Helpful"
Useful for those of us not fluent in French to have this clear gospel summary.
"2WTL en Francais"
Deux Facons de Vivre presente la Bonne Nouvelle de facon logique et claire. Les figures et versets sont, bien sur, ceux de la version originale 'The Choice we All Face'. Le francais convient egalement a la France et a l'Afrique francophone (d'apres un tres petit sondage).

Deux Facons de Vivre presents the Gospel in a logical and clear way. The pictures and verses are of course the same as in the original, The Choice we All Face. The level of French used is equally suitable for France and for Francophone Africa (according to a very small poll).