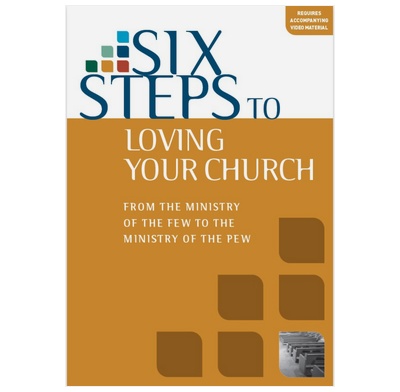 Six Steps to Loving Your Church Workbook
From the ministry of the few to the ministry of the pew
A stimulating video-based course for small groups that will help people to change their whole mindset about church
Some of us really love our churches, some of us aren't so positive, and for many of us that feeling can change from week to week.
This six-session program is about how to love your church whether you're feeling enthusiastic about it or not. It's about the mindset you take with you as you go to church each week, and how that mindset is expressed in a multitude of ways, big and small.
Learn that 'loving' your church doesn't just mean enjoying it or liking it, but loving the people who are the church by ministering to them in whatever way possible.
Over the six sessions of the course you will cover subjects such as:
- your current attitudes towards church, and how they are expressed
- what the Bible says about the meaning and purpose of church
- what it means to love your church and the people who go there
- how all of us can be active encouraging servants before, during and after church, rather than just consumers or spectators.
Each session contains a mix of discussion, Bible study, video input and prayer, along with simple exercises to help you put the ideas into practice on Sunday.
Six Steps to Loving Your Church is a course best undertaken in a small group (of 3-8 people). To run the course you will need:
- the text of each study (printed out or distributed digitally) for each person
- the leader's notes, which are a separate download
- a way to show the video content to your group.
Contents
Introduction
1. Walking into church
2. Building in love
3. Get ready to build
4. Love over coffee
5. Loving the outsider
6. Loving your church
Appendix 1: Leader's notes
Appendix 2: How to use this course in your church (for pastors and church leaders)
Specification
| | |
| --- | --- |
| Author | Colin Marshall, Tony Payne |
| ISBN | 9781922206435 |
| Format | Saddle stitch |
| First published | March 2014 |
| Dimensions | 157mm x 225mm x 4mm |
| Print size | 10pt |
| Language | English |
| Pages | 64 |
| Publisher | Matthias Media |
"Absolutely brilliant series"
(Review written for 'Six Steps to Loving Your Church - Starter Pack')
This series is brilliant. It combines sound Biblical teaching with engaging and thought-provoking videos and discussion.

My small group went through this series last month, and it has drastically changed the way we think about church, helping us to deepen relationships, encourage others in church, and much more.
The whole church is now going to use this series.

As a group in their early 20s, we can find many video series' slightly awkward to watch. However, this series is brilliant, and Tony Payne is a natural in front of the camera.

This series has drastically changed the way we approach church, and I would highly recommend it to anyone.
"2015"
(Review written for 'Six Steps to Loving Your Church - Starter Pack')
We used this with our cell groups. For us it provided an opportunity for active discussion followed by implementation of the points raised. It was a timely resource for us as we seek to be more real in our welcome etc rather than superficial. Those are the positives! Negatives are that it is a bit 'light' in some places and we combined two of the sessions as there was not much material in them. It is not a typical resource for cell group as there was not a lot of biblical material in it and it was certainly not a study of scripture in the normal sense of cell group material. Therefore in summary; an excellent resource for discussion and moving a Church on, but not a typical bible study resource.
"A good idea, but lacking depth"
(Review written for 'Six Steps to Loving Your Church - Starter Pack')
I am sure that this will be really useful for some situations, especially if your church has not engaged with "The Trellis and the Vine". However we were hoping to use it in our small groups, but after looking at it I feel it lacks much depth and isn't useful to us at the moment.