Praying through the Bible for your kids
Daily encouragement for parents who realize the things they want most for their kids are things only God can do... so they pray.
As parents we want to protect our children; we want them to move forward in life; most importantly, we want them to take hold of and grow in Christ. And while the advice offered by parenting experts can be helpful, at some point we realize there are no simplistic formulas or sure-fire methods. We need wisdom from God's Word for this all-important task.
In The One Year Praying through the Bible for Your Kids, trusted author Nancy Guthrie weaves together wisdom and insight from each day's reading in The One Year Bible, providing encouragement through the triumphs and turbulence of parenting. Day by day you'll find your dreams and desires for your children are becoming shaped more by Scripture than by the culture around you. Worry less, pray more, and help yourself to a daily dose of perspective, hope, and grace as you parent.
Specification
| | |
| --- | --- |
| Author | Nancy Guthrie |
| ISBN | 9781496413369 |
| Format | Paperback |
| First published | 2016 |
| Dimensions | 152mm x 228mm |
| Language | US English |
| Pages | 384 |
| Publisher | Tyndale |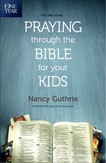 "Amazing!"
I recently bought this book thinking it was something different but I love it! It is dated bible readings plus some thoughts, and a prayer. Today's reading was Colossians 3:12-15, and the challenge is to extend grace to our children as God has shown us abundant grace. I'm finding it a great tool in praying for my children and for me and my husband in our parenting. Put it on your Christmas list!!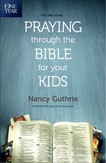 "Insightful devotional shines God's light into your and your children's lives"
When I bought this for my wife, I got a mixed response, something along the lines of "not another parenting book"!! This book is less of a parenting book (although she gives wonderful godly wisdom for how we think and pray for our children) but more a tremendous daily devotional resource for all who would walk closely with their Lord. Nancy doesn't avoid any hard questions of life, instead she shows how to apply the scriptures honestly and faithfully to ones own life and the life of your children. This has become our "go to daily devotional" and I would highly recommend it for anyone looking for a closer walk with the Lord!