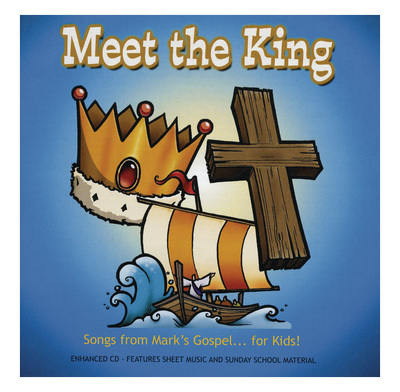 Meet the King CD
Songs from Mark's Gospel for Kids!
Meet The King is a CD all about Jesus as portrayed in Mark's Gospel – just for kids.
Following in the footsteps of The King, The Snake & The Promise, Meet The King is a CD all about Jesus as portrayed in Mark's Gospel – just for kids. The songs are fun and fast (with a few slow ones), and feature the voices of Colin Buchanan, Nicky Chiswell, Karen Pang, Matt Roberts, Jane Saunders, Nathan Tasker, and Throat.
The Enhanced CD contains all the sheet music and overhead masters, plus exciting new Sunday School material by Phil Campbell.
Contents
This is an enhanced CD - which means if you put it in your computer you will find the sheet music and overhead masters for each song on this disc along with Sunday School material on Mark's Gospel, by Phil and Louise Campbell.
Free extras
Specification
| | |
| --- | --- |
| Age range: | 5 - 11 |
| ISBN | 9781873166505 |
| Format | CD-Audio |
| First published | January 2004 |
| Dimensions | 124mm x 142mm x 10mm |
| Language | English |
| Publisher | EMU |
Other information
Tracks:
1. I'm Following The King
2. Hi there everyone...
3. Get Ready
4. After John had prepared the way...
5. The Son of Man Song
6. King Jesus does have lots of power...
7. Please Make Me Clean
8. Jesus Rose To Pray
9. King Jesus commanded people...
10. He Must Be God
11. The Lame Man
12. Mark Chapter 4...
13. The Ballad Of Farmer Phil
14. Good Soil
15. Mark Chapter 8...
16. Who Do You Say I Am
17. Peter was right...
18. The Bloke With Everything
19. Mark Chapter 10...
20. The Greatest I n The Kingdom
21. Mark 10:45
22. Of all the wonderful things...
23. What Sort Of King
24. Mark Chapter 15...
25. He Saved Me
26. Death could not hold Jesus...
27. Tell Them
28. Jesus is the King...
29. Jesus Is The King
"Excellent"
We love how it includes kids reading passages from Mark and songs that kids and adults enjoy
'I want to be the good soil' is a highlight!
"Faithful lyrics and catchy tunes"
My kids love these songs and so do my husband and I. The songs teach eternal truths about God's word in Mark in a fun and memorable way - so we can all sing and remember these important truths.
"Super Resource for Sunday School"
Great CD. Uplifting and thoughtful music for children. We use this a lot in Sunday School and the children thoroughly enjoy the music!
"Very pleased"
I knew about this CD from when I helped on a kids holiday club (for 7-11 year olds) at my church a few years ago. All the kids were bopping to the songs and I thought they had really good christian truths whilst still being fun... and a bit mad at times (!) I found myself humming along to them too.
I bought this CD for my goddaughter who is actually only 18 months old, but she loves the tunes and hopefully will grow up singing along to the songs.
One song I particularly like but can't remember the name, goes through the parables that show Jesus' qualities saying "He must be God if He did that"
Love it!
"Our family loves it"
We like to listen to music on longer road trips. What's great about this CD is that it gives children a good sense of what the book of Mark is all about without compromising on the quality of the music, lyrics or voices. Short passages and stories are narrated throughout. As far as I'm concerned, the producers could do this for every book of the Bible and we would happily buy the ensuing result. Thank you for a great product.
"Great mixed-ability Sunday School material"
Good songs that fit well with the teaching material. We used this after "The King, the Snake and the Promise" and the Sunday School material is much fuller. There are 2 worksheets for each session for juniors and seniors. We made the pictures individually (not a banner) and missed a couple out because the stories don't follow on from each other in the same way as "The King, the snake .." I felt I had to edit sessions 7 and 8 quite heavily to avoid falling into the traditional Sunday School trap of How to be Nice Christians! However, the rest of the sessions are really Jesus-focussed.
"Excellent teaching"
Good music and excellent teaching, going through the main themes of Mark's Gospel. Teaching for kids whithout them knowing they are learning anything! Singable. Bible-based songs.
"Meet the King"
This is an excellent CD/ teaching resource. The songs are good and we've been able to make up our own actions to them. Our groups have enjoyed doing the worksheets and we are in the process of completing the banner to hang on our church wall, for all the church to see what the youngsters do and are taught during their lessons.
"Great"
We bought this for our 6 and 3 year olds after enjoying 'The King, the snake and the promise'. They think it is great (so do their mum, dad and baby sister). The songs are taken straight out of Mark. They manage to be fun and catchy without losing the impact of the message. We would thoroughly recommend it.
"An AMAZING resource"
This is an AMAZING resource for Sunday School or midweek Christian Club. The enhanced CD gives lesson plans, work sheets/colouring sheets, songs, and templates for a banner showing the main stories in the Gospel of Mark. The children have really enjoyed the activities, and the songs help them memorize key facts and verses.
Easy to use- highly recommended.