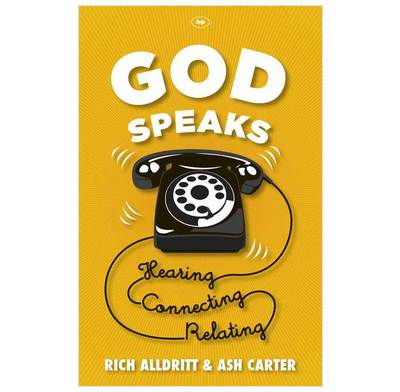 God Speaks
Hearing, connecting, relating
How does God speak? How should we respond when he does?
God speaks. By his Spirit. Through the Bible. About his Son.
This is one of the most crucial things for any Christian to get to grips with. If we understand how God speaks, then we can truly know him. Everything else slots into place. We see Jesus clearly. We fall in love with him more deeply. We make sense of our world. But get this wrong and we lose it all.
This book covers the whole sweep of the subject from start to finish. It puts all the parts of the jigsaw in their proper place. Yet, mixing our metaphors, it's also an appetizer, whetting your palate for more...
Specification
| | |
| --- | --- |
| Author | Ash Carter, Rich Alldritt |
| ISBN | 9781844748419 |
| Format | Paperback |
| First published | April 2013 |
| Dimensions | 137mm x 215mm x 11mm |
| Print size | 10pt |
| Language | English |
| Pages | 160 |
| Publisher | IVP |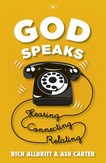 Jonathan Lamb
Director, Langham Preaching
We all long to hear God's voice, but many of us are confused about exactly how to tune in. Here's a crisp, clear and compelling guide to the joy of hearing the word of the Lord and meeting the Lord of the word.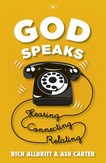 Fiona MacDonald
Director of National Ministries, Scottish Bible Society
God Speaks is a deceptively simple book. A quick read with a fast paced and humorous narrative, it holds the attention of the reader with ease. But don't be fooled, under the simplicity lie some of the most essential and necessary truths required for any Christian seeking to mature their relationship with God. As God reveals Himself to us - this book makes the mystery of that revelation accessible. As God desires to speak with us - this book encourages that conversation to begin.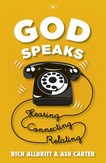 William Taylor
Rector at St Helen's, Bishopsgate
There can be few issues more important to the Christian than that of how God speaks. Hearing his voice is crucial to a healthy love for Jesus and a fruitful life in his service. This excellent book provides an outstanding introduction to the subject. It is clear, carefully presented and thoroughly readable. I recommend it wholeheartedly.