Christian Heroines
Just Like You
21 heroines whose stories testify to God's strength and faithfulness
These women made sacrifices for their faith. They endured pain and suffering in order to give glory to their Lord and Saviour Jesus Christ, and they have given us a legacy. With these twenty-one heroines you can go through history and see how these women made a difference in their world and in church.
From the slave girl Blandina through to the young mother Betty Stam, we discover the women from the early church to modern missionaries who face their struggles with the strength of God. Nothing could separate them, or us, from the love of God.
Contents
JUST LIKE ME AND YOU?
THE EARLY CHURCH
Blandina
Perpetua of Carthage
Felicity
THE REFORMATION
Anne Askew
Joyce Lewes
Joane Waste
Maria de Bohorques
Alice Benden
Prest's Wife
Helen Stark
THE COVENANTERS
Elizabeth Welch
Marion Fairlie
Isabel Alison
Marion Hervey
Margaret Wilson
Elizabeth Gaunt
Marie Durand
MODERN MISSIONARIES AND CHRISTIANS
Ann Hasseltine Judson
Marianna Slocum
Betty Stam
Corrie ten Boom
JUST LIKE ME AND YOU!
Free extras
Specification
| | |
| --- | --- |
| Age range: | 8 - 14 |
| Author | Catherine Mackenzie |
| ISBN | 9781845504601 |
| Format | Paperback |
| First published | January 2014 |
| Dimensions | 110mm x 180mm x 10mm |
| Language | English |
| Pages | 176 |
| Publisher | Christian Focus |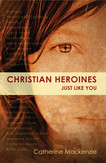 Catherine MacKenzie
Author and CF4K Editor
When writing summaries of these women's lives I wanted to give other young women the opportunity to put themselves in a heroine's shoes - to see if they'd fit as it were. Because these heroines were just like us... what makes them special is God and his purposes. Who knows what God has planned for our lives? It could easily be persecution like it was for Blandina or the Two Margarets - it could be fearlessly standing up for the truth like Elizabeth Welch. Or it could be a more anonymous testimony to God's strength and faithfulness in our lives... where only our Lord and Saviour witnesses the sacrifices we make for him.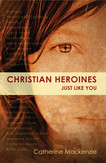 The Covenanter Witness
Aimed at young teenagers, this book examines the martyrdom of Christian women and girls...definitely worth a read as it challenges and encourages.