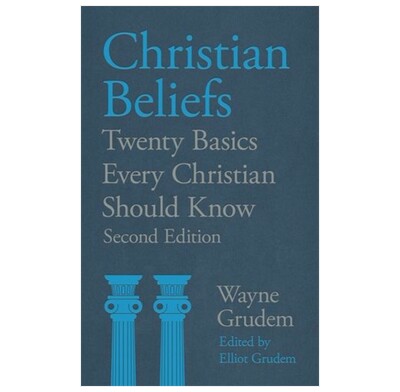 Christian Beliefs (2nd edition)
Twenty Basics Every Christian Should Know
This guide to twenty key Christian beliefs is an abridegment of theologian Wayne Grudem's award-winning book Systematic Theology.
This simple and clear guide to twenty basic Christian beliefs condenses respected pastor's Wayne Grudem's award-winning book Systematic Theology, prized by pastors and teachers everywhere. He and his son, pastor Elliot Grudem, have created a reader-friendly guide for everyday Christians. Each brief chapter concludes with questions for personal review or group discussion.
In this revised and updated edition of Christian Beliefs, you will learn about:
• The Bible and its authority for our lives
• The characteristics of God
• The importance of prayer
• Angels and the reality of spiritual warfare
• What it means that we are created in the image of God
• What God has done for us in Christ
• The purpose of the church
• What will happen when Christ returns
• The biblical understanding of heaven
And much more
Christian Beliefs is the ideal book for every Christian who wants a solid foundation for understanding the most basic and essential teachings of the Bible.
Specification
| | |
| --- | --- |
| Contributors | Wayne Grudem, Elliot Grudem |
| ISBN | 9781789744194 |
| Format | Paperback |
| First published | May 2022 |
| Dimensions | 138mm x 211mm x 12mm |
| Language | English |
| Pages | 208 |
| Publisher | IVP |