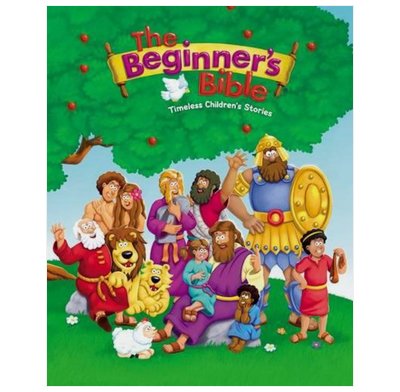 The Beginner's Bible
Timeless Children's Stories
Our pick as the best available story Bible for younger children. Now with updated 3D artwork.
Updated 3D artwork gives this firm favourite a new lease of life, with a more modern and vibrant feel.
First created to tell favourite Bible stories in language children could easily understand, The Beginner's Bible has become a treasured best seller playing a pivotal role in the spiritual development of a generation of children, with over five million sold worldwide.
With vibrant art and easy to read text, more than 90 favourite Bible stories come to life, making this a perfect starting point for children.
Our pick as the best available story Bible for younger children. A good mixture of stories, accurate illustrations and key Bible themes linking them together. Good language usage for the under 6s and bright cheerful illustrations.
The Beginner's Bible is ideal to use alongside Beginning with God, our bible-reading resource for pre-schoolers.
Free extras
Specification
| | |
| --- | --- |
| Age range: | 2 - 6 |
| Author | Kelly Pulley |
| ISBN | 9781781283479 |
| Format | Hardback |
| First published | February 2017 |
| Dimensions | 190mm x 158mm x 38mm |
| Language | English |
| Pages | 512 |
| Publisher | Lion Hudson |
"We love this Bible!"
My husband had this Bible (in an older version) as a child 30 years ago and still imagines these pictures when he hears some of the stories. We are now reading this version to our two and half year old and he is really understanding and engaging with them and the pictures. The illustrations are clear, colourful and fun and the stories are faithful, concise and simple enough for young children but with enough in them for discussion. We highly recommend this Bible for young children!