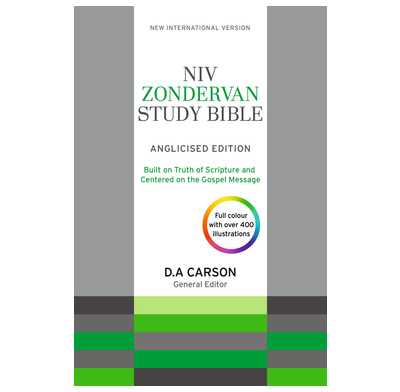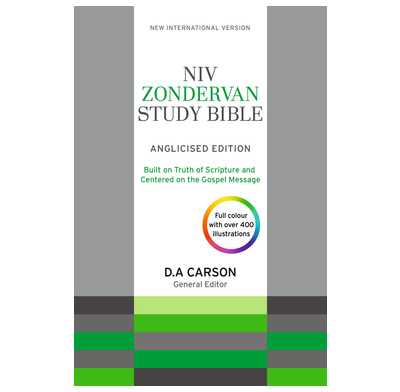 NIV Study Bible (Anglicised)
Built on the truth of Scripture and centred on the gospel message
Anglicised Hardback edition of the NIV Study Bible, featuring Dr. D.A. Carson as general editor. Text size: 9pt.
The Anglicised NIV Study Bible, featuring Dr. D.A. Carson as general editor, is built on the truth of Scripture and centred on the gospel message.
This British text edition has 9pt Bible text and the study notes are 7pt. It has two ribbon markers and a presentation page for a dedication inscription.
An ambitious and comprehensive undertaking, Dr. Carson, with committee members Dr. T. Desmond Alexander, Dr. Richard S. Hess, Dr. Douglas J. Moo, and Dr. Andrew David Naselli, crafted all-new study notes and other study tools to present a biblical theology of God's special revelation in the Scriptures. Alongside the committee, a team of over 60 evangelicals from a range of denominations and perspectives have contributed to this study Bible, including Dr. Timothy Keller, Henri A. G. Blocher, Sam Storms, David Peterson, Craig Blomberg, Kevin DeYoung & Tremper Longman the third.
To further aid the readers' understanding of the Bible, also included are full-colour maps, charts, photos and diagrams. In addition, a single-column setting of the Bible text provides maximum readability.
The accessible and fresh interior design will capture your attention and enhance your study experience.
Features include:
- Over 60 scholarly contributors
- Over 1.2 million words of new content
- Over 3,000 pages packed with in-depth study tools
- Nearly 20,000 all-new, comprehensive verse-by-verse study notes
- Customised, theologically rich, illustrated book introductions
- 6 section introductions to literary genres ("The Pentateuch," "The Historical Books," etc.)
- Full-colour interior with extensive use of over 60 colourful charts, over 90 maps, and hundreds of photos
- Comprehensive library of over 30 articles by award-winning scholars on topics such as "The Bible and Theology," "The Glory of God," "Covenant," "Love and Grace," and more
- Cross-reference system
- Complete text of the New International Version
- Concordance with over 35,000 Scripture references
- Bible text is 9pt and the Study Notes are 7pt
Specification
| | |
| --- | --- |
| Author | Don Carson |
| ISBN | 9781473637788 |
| Format | Hardback |
| First published | December 2017 |
| Dimensions | 150mm x 220mm x 65mm |
| Print size | 9pt |
| Language | English |
| Pages | 2560 |
| Publisher | Zondervan |
Other information
Worried about size?
Download our type-size guide to check which font size is right for you.