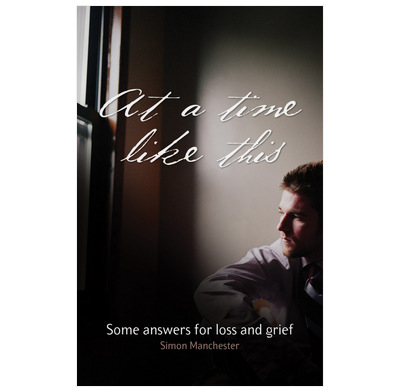 At a time like this
Some answers for loss and grief
Some answers for loss and grief.
Some answers for loss and grief
Adapted from his vast experience of delivering sermons at funerals, Simon Manchester has written this short booklet for those whose grief may have caused them to think about what is beyond this life.
At a Time Like This tells of the only expert on life and death who has come back from the grave and told us what it's like: Jesus Christ. This short booklet tells why we should come to Jesus for truth, meaning and real comfort. It also includes Christian answers to common questions about grief.
Specification
| | |
| --- | --- |
| Author | Simon Manchester |
| ISBN | 9781921068270 |
| Format | Paperback |
| First published | July 2006 |
| Dimensions | 130mm x 202mm x 2mm |
| Language | English |
| Pages | 20 |
| Publisher | Matthias Media |
"A great resource to give to unbelievers"
I have given this booklet away to several people (none of them Christians) when they were bereaved. These ranged from a young man in his 20's whose mother had died, to folks in their late 50's on the loss of a brother / grandmother / very close friend. They have all been very appreciative. I think this was mainly the fact that someone gave them something helpful, but I do think the booklet is very well written. It points to the problem of death and Christ as the one in whom there is hope, but it does so warmly. It is not pushy, but humble and patient in tone. It is concise and readable without being crass (a problem I've found with shorter tracts). I now have a supply of these to give to anyone who has just lost a loved one. Because of the situations in which I have given this away, I have not yet had meaningful conversation as a result of the book - but I think that says more about me and abut those situations than about this book!
"Good clear teachin"
This book provides truthful, clear teaching on the subject of death. My lovely christian husband went to be with the Lord 6 months ago and I have no idea how anyone can bear the pain of bereavement without firm trust in the Lord Jesus. Thank you for this little book
"Tackled death and the Christian hope in a sensitive way"
I bought this as a resource for my family after my Dad died. It tackled death and the Christian hope in a sensitive way without using Christian jargon.
"For fairly literate bereaved people"
I take this booklet with me when I am visiting bereaved families. It is both compassionate and clear about the Gospel. My only reservation is that it is fairly closely reasoned, so is more helpful for those who, say, read a quality newspaper. It is also relatively small print, so more difficult for the elderly.
"Helpful for funeral ministry"
As a minister who regularly takes funerals, I offer these booklets to the congregation for anyone who wants to find out more about Jesus off the back of my sermon. Usually a handful of booklets go each time, and if they actually read it they'll find a really clear but also pastorally sensitive explanation of the gospel applied to people who are grieving. There's a space in the back where you can put a sticker with your contact details.
"Good book"
I was given this book by a friend as my husband had recently passed away although this book was interesting I do not feel that in my case it helped but then again I dont think anything will. I am sure that if you have a belief in God this would help you