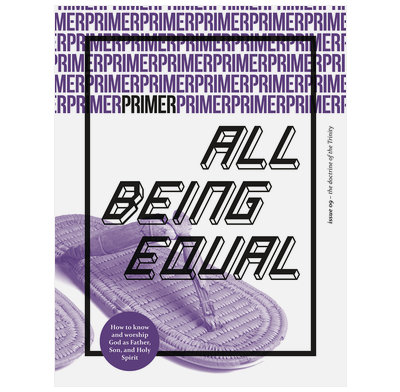 All Being Equal - Primer Issue 9
How to know and worship God as Father, Son, and Holy Spirit
The Trinity is not a problem. We often think it is. Complicated, embarrassing to defend, best left to the theologians. And yet it is a beautiful truth that speaks to us of the most foundational questions: Who is the God we worship? And how has he acted for our salvation?
Primer issue 09 is the second half of a look at the doctrine of God. In issue 08 we explored God's attributes and the Creator/creature distinction, developing the ways in which our God is wonderfully unlike us. Now we move to thinking about the way in which God exists as three persons and what that means for us.
Carl Trueman kicks things off with an overview of the early centuries of the church, introducing some of the key figures and debates which set the terms for the doctrine of the Trinity.
Then we have two articles which help us understand the way the Son and the Spirit relate to the Father.
The first, by Mark Smith, introduces the doctrine of the eternal generation of the Son, and the wonderful ways in which that eternal truth relates to the sending of the Son in history.
The second article features our historical text by Basil the Great who defended the Holy Spirit's right to our worship. John James is your guide to Basil, and he helps us ponder what it looks like to honour the Spirit in church life.
In the next article Chris Ansberry asks how we should read the Old Testament in light of the Trinity. Is the Trinity revealed there in clear ways, hinted at, or hidden until the New Testament?
The final two articles dig deeper into the significance of the Trinity for the church's worship and mission.
Matt Merker highlights the Trinitarian nature of Christian worship and asks how we can reflect that in the elements of a church service.
And then, finally, Fred Sanders asks how the Trinity relates to evangelism. We often think that the Trinity is a mystery that's hard to explain in evangelism. Fred flips it round to suggest the Trinity explains the mystery of evangelism.
Specification
| | |
| --- | --- |
| Author | David Shaw |
| ISBN | 9781784985295 |
| Format | Paperback |
| First published | November 2019 |
| Dimensions | 195mm x 255mm x 7mm |
| Language | English |
| Pages | 80 |
| Publisher | FIEC |