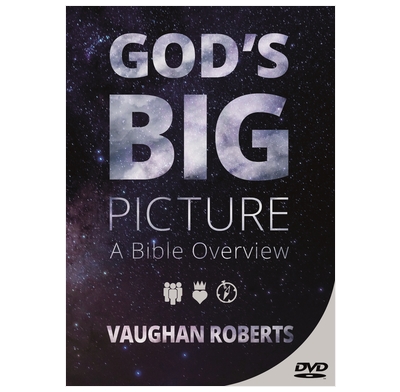 God's Big Picture DVD
A Bible Overview
God's people, in God's place, under his rule and blessing- that's how it all starts...
Sixty-six books, forty authors, written over nearly two thousand years, in many different genres. The Bible is a worldwide bestseller published in countless translations and languages. Clearly, the Bible is no ordinary book. So how can we begin to read and understand it as a whole?
In nine short lessons on the DVD course based on the book, God's Big Picture, Vaughan Roberts paints the big picture, showing how the different parts of the Bible fit together under the theme of the kingdom of God. He offers us tools to read the Bible with confidence, enthusiasm and understanding. Vaughan points us to its supreme subject, Jesus Christ, and the salvation of God offers through him.
Each of the 9 units consists of a 10 minute video followed by an hour long Bible study which you could do in a group at church or by yourself at home. A must for anyone wanting to dig deeper into the Bible and it comes in an accessible format with Vaughan as a helpful guide.
Contents
Unit 1: The Pattern of the Kingdom
Unit 2: The Perished Kingdom
Unit 3: The Promised Kingdom
Unit 4: The Partial Kingdom - People, Rule and Blessing
Unit 5: The Partial Kingdom - Place and King
Unit 6: The Prophesied Kingdom
Unit 7: The Present Kingdom
Unit 8: The Proclaimed Kingdom
Unit 9: The Perfected Kingdom
Specification
| | |
| --- | --- |
| Author | Vaughan Roberts |
| ISBN | 9781783596140 |
| Format | DVD video (Amaray) |
| First published | October 2017 |
| Dimensions | 137mm x 192mm x 11mm |
| Language | English |
| No. of studies | 9 |
| Publisher | IVP |