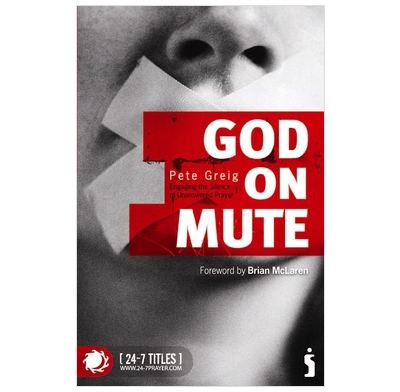 God on Mute
Engaging the Silence of Unanswered Prayer
What do you do when God is silent and your prayers aren't working?
Feel like God doesn't answer prayer? You aren't alone. Pete Greig tells his story of prayer and perseverance. You'll find hope and a renewed fervour to pray at all times, in all places God on Mute was written out of Pete's own experience of the miraculous power of prayer alongside the pain of unanswered prayer and the common human struggle to find faith with that paradox.
Just after the birth of the 24-7 Prayer Movement and of his second child, Pete's wife Samie was diagnosed with a massive brain tumour. Subsequent surgery to remove the cancer was successful but she continues to suffer terrible epilepsy and his deepest prayers for her healing did not work.
Tracking Christ's own unanswered prayer through Gethsemane and Golgotha, the book leads the reader to Easter Sunday where miracles arise? often when we least expect it.
Pete is passionate about the message of God on Mute because it will help many hurting people to hang onto God when they need him more than ever before. Our hope is that God on Mute will inspire people to persevere in prayer and to admit to their struggles as well as their encouragements.
Pete Greig is a theology graduate, who found his spiritual home at the innovative Revelation Church in Chichester. Greig has earned a reputation as a radical thinker through his involvement with Cultural Shift.
Pete is one of the founding leaders of 24-7 Prayer, which has grown since 1999 from a single prayer room in England into an international, interdenominational Christian community in 63 countries. Greig is a popular speaker and the author of Red Moon Rising.
Contents
Foreword: Brian McLaren
Introduction: How I Developed a Powerful Ministry to Basketball Players, Thanks to My Intergalactically Stupid Friend
Maundy Thursday: How Am I Going to Get Through This?
Chapter One: Confetti
Chapter Two: Seeking Magic Fruit and Finding Tears
Chapter Three: Into the Mystery
Chapter Four: Naked Prayer
Chapter Five: A Darker Trust
Good Friday: Why Aren't My Prayers Being Answered?
Chapter Six: Wondering Why
Chapter Seven: God's World
Chapter Eight: God's Will
Chapter Nine: God's War
Holy Saturday: Where is God When Heaven Is Silent?
Chapter Ten: Exploring the Silence
Chapter Eleven: Engaging the Silence
Easter Sunday: When Every Prayer is Answered
Chapter Twelve: Living Hope
Chapter Thirteen: Beyond Miracles
Afterword: Sammie Greig
Appendices:
A. Personal Checklist
B. Heroes of the Faith and Unanswered Prayer
C. Discussion Guide for Small Groups
Endnotes
Acknowledgements
About the Author and Artist
Specification
| | |
| --- | --- |
| Author | Pete Graig |
| ISBN | 9781842913178 |
| Format | Paperback |
| First published | April 2007 |
| Dimensions | 128mm x 197mm x 24mm |
| Language | English |
| Pages | 346 |
| Publisher | Kingsway |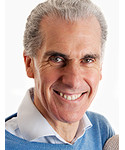 Pete Greig is one of the most talented and inspiring Christian authors in the world today, and his book God on Mute is a masterpiece. I cannot recommend it highly enough.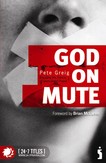 "helpful and brilliant"
This is a really helpful book and gets to the root of the problem. We often think God is silent and ignoring us - Pete Greig explains very well, that God often 'behaves' and deals with us in a different way and we often don't fully understand what he is trying to teach us. Brilliant thank you.