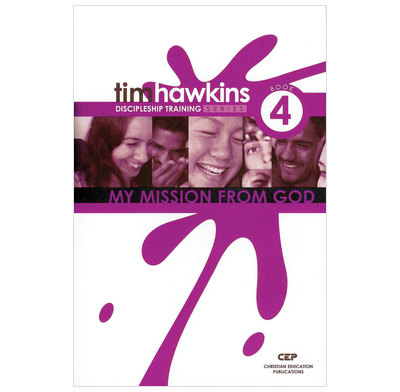 Discipleship Training Series 4 - My Mission From God
These ten studies explore God's call for us to be witnesses and stewards.
The fourth book in the Discipleship Training Series, My Mission From God, contains ten studies all designed to help you to be an effective member of Jesus' ministry team.
The first half of the book focuses on your challenging call to be a witness - someone who helps others to discover the difference that Jesus makes. The second half of the book is to help you to become a faithful steward - a good manager of the gifts that God has given you. Solid teaching and great graphics make these studies ideal for Senior Highs and young adults.
Contents
1. I'm a witness for Christ
2. I've got the power of the Gospel
3. I've got the power of love
4. I can grow other disciples
5. I can impact the world
6. God has put me in charge
7. I'm a steward of God's ministry gifts
8. I'm a steward of God's time
9. I'm a steward of God's money
10. Instant replay
Extras
Specification
| | |
| --- | --- |
| Age range: | 14 - 18 |
| Author | Tim Hawkins |
| ISBN | 9781876960391 |
| Format | Saddle stitch |
| First published | 2005 |
| Dimensions | 163mm x 246mm x 4mm |
| Language | English |
| Pages | 40 |
| No. of studies | 10 |
| Publisher | Youthworks |
"Good material for youth house group"
I found this material helpful to start discussions on the various topics that it threw up. It was good as a "Starter for Ten" but we never rigidly stauck to it. Overall, it was a good resource for our 11 - 18s.