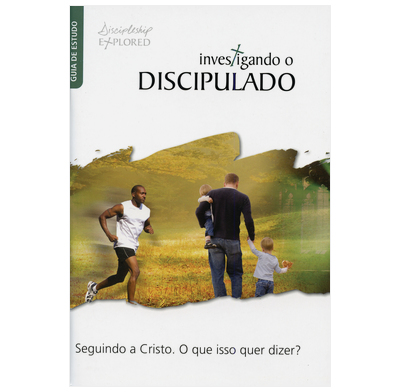 Discipleship Explored Handbook (Portuguese)
Following Christ. What's it all about?
Handbook for each participant on this follow-on to Christianity Explored and other evangelistic courses in Portugese
Part of the Discipleship Explored series.
Discipleship Explored is for anyone who wants to make the most of their Christian lives, but especially for people who have recently completed an evangelistic course and decided to follow Christ.
Developed by the team behind Christianity Explored and based on the book of Philippians, the course lasts eight weeks, with each session lasting about two hours and has a group discussion, a study in Philippians, short talk and further discussion.
Features:
• Revised and updated, with a fresh new look
• Contains everything a guest needs to take part in a Discipleship Explored course
• Includes discussion questions and follow-up material for guests to continue to explore each session's theme during the week
• New features: session summaries, dictionary of tricky words or phrases, map and background material on Philippians
Braille and Giant Print
The Discipleship Explored Handbook is also available in Braille and Giant Print thanks to our friends at The Torch Trust. To order a copy, please call 01858 438260 or click here.
Contents
Week 1: Confident In Christ - Philippians 1:1-11
Week 2: Living In Christ - Philippians 1:12-26
Week 3: Standing Together In Christ - Philippians 1:27 - 2:11
Week 4: Transformed By Christ - Philippians 2:12-30
Week 5: Righteous In Christ - Philippians 3:1-9
Week 6: Knowing Christ - Philippians 3:10 - 4:1
Week 7: Rejoicing In Christ - Philippians 4:2-9
Week 8: Content In Christ - Philippians 4:10-23
Specification
| | |
| --- | --- |
| Contributors | Barry Cooper |
| ISBN | 9788576684565 |
| Format | Paperback |
| First published | October 2014 |
| Dimensions | 150mm x 225mm x 5mm |
| Language | Portuguese |
| Pages | 80 |
| No. of studies | 8 |
| Publisher | Editora Crista Evangelica |
Also available in