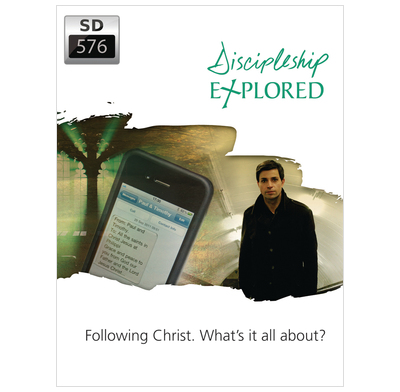 Discipleship Explored Episodes (SD)
Following Christ. What's it all about?
Individual episodes for each of the eight sessions of Discipleship Explored presented by Barry Cooper.
Please note there is a newer version of this title.
These episodes are in Standard Definition and are suitable for playing on smaller screens, laptops, tablets, ipads and mobile devices. Each episode is between 80-100Mb.
This eight-session journey through Paul's letter to the Philippians can be used with individuals or groups of any size to present the excitement, challenge and joy of following Christ. It's ideal for new Christians, or anyone who wants to know Christ more deeply.


This insightful and visually stunning DVD is written and presented by Barry Cooper, co-writer of Christianity Explored.
• DVD to accompany the Discipleship Explored course
• All the talks for the eight-session course
• Filmed on location around the UK
• Presented by Barry Cooper, co-author of Discipleship Explored
• To be used alongside the Leader's Guide and Handbook
• Price includes VAT
Note: The DVD content is the same as the 1st edition but the cover has been redesigned to match the revised version of Christianity Explored.
Contents
Episodes:


1. Confident in Christ
2. Living in Christ
3. Standing together in Christ
4. Transformed by Christ
5. Righteous in Christ
6. Knowing Christ
7. Rejoicing in Christ
8. Content in Christ
Extras
Specification
| | |
| --- | --- |
| Author | Christianity Explored |
| Format | Digital Download |
| First published | 2013 |
| Language | English |
| Publisher | The Good Book Company/CE |

"Very Good"
(Review written for 'Discipleship Explored DVD (PAL)')
I guess it will not be to everyone's taste. I was in a group of adults that used it as a follow-up to Alpha. I personally enjoyed it and found it very useful; just the right balance - not effusive or over the top evangelism.

I have only recently become a Christian and this DVD/material was very useful for me. Used in conjunction with other stuff it has certainly helped me along my journey. I think some of the questions might have been structure a little differently but they didn't seem any worse or better than others I have read.

"Disappointed"
(Review written for 'Discipleship Explored DVD (PAL)')
After having gone through Christianity Explored (which is excellent), Discipleship Explored is let down by it's presentation. Rico Tice is an excellent presenter, and it's a shame he did not present this course himself. What a difference it would have made.

"Feedback rated the course outstanding"
(Review written for 'Discipleship Explored DVD (PAL)')
The DVD talks were so concise, clear and focused that explorers came to each successive week brimming with confidence. That confidence translated into a real desire to undertake "The Week Ahead" home studies and allowed the development of a passion to understand AND apply what God was saying through Paul. The resultant commitment played out in vibrant group discussion. Most noticeably, recent converts (via CE) appeared to grow in spiritual maturity before table leaders eyes. That manifestation of God's sanctifying grace was both humbling and hugely encouraging to table leaders, members and church leadership alike. The group discussions, DVD talks and "The Week Ahead" Bible studies drew explorers into communion with God leaving a telling imprint on the lives of these believers.

"Excellent Resource"
(Review written for 'Discipleship Explored DVD (PAL)')
I have used this DVD with a group of ladies on the fringe of our church. For me it has been invaluable. The talks are perfect in content, length and presentation. Barry Cooper is extremely engaging and easy to listen to (easy on the eye too - was the comment from one lady!) His life application style analysis of the passages were the perfect springboard for discussion. I would recommend this DVD to all.

"Excellent Biblical Study"
(Review written for 'Discipleship Explored DVD (PAL)')
We have several groups using this material and all are very pleased. The videos, are short, but pointed, leaving plenty of time in our groups for discussion. They still to the point of the scripture passage in front of us, and that to is appreciated. We would look forward to other book studies after we finish this studyon Philippians.

"great"
(Review written for 'Discipleship Explored DVD (PAL)')
arrived in good nick and in good time. We haven't started using it yet, but from what I've read, it looks good

"Great product!"
(Review written for 'Discipleship Explored DVD (PAL)')
Great resource to use for Christians, and even for those thinking through Christianity. Explored Philippians in a wonderful way, clearly and vividly, in ways which certainly impacted my life, and others too.

"Recommend this one!"
(Review written for 'Discipleship Explored DVD (PAL)')
We used this in our mid-week meeting with mainly mature Christians as a pilot study. Very much positive feedback, and it encouraged Bible Study and participation. Only negative point was, as already mentioned in an earlier review, that Barry could have done with more warmth and a smile (especially when talking about joy!).

"An excellent resource."
(Review written for 'Discipleship Explored DVD (PAL)')
We have just completed the Discipleship Explored course as a church. We even had to start a new Fellowship Group for people who don't normally attend one. There have been no negative comments at all - surely a first! - and everyone wants to know what we are going to do next.

"Excellent DVD!!"
(Review written for 'Discipleship Explored DVD (PAL)')
I purchased this Study guide to run a group from my home, and going through it with my husband first we both thought it was excellent teaching material, we are looking forward to sharing this with many others a the next step after Christianity explored.