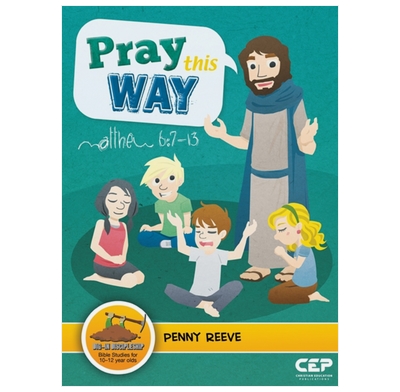 Dig-In Discipleship: Pray This Way
Matthew 6:7-13
Pray this Way explores Matthew 6:7–13, where Jesus teaches us that talking to God is a gift rather than a rule to follow. Prayer is a thoughtful conversation with our Lord and Saviour who loves us, listens to us and speaks into our lives.
We are waiting for a decision from the publisher, CEP, on whether they're going to continue this series and continue to supply the UK with stock. Apologies for this delay. We'll update this page as soon as we hear.
Pray this Way is part of the exciting Dig-in Discipleship study series which gets kids aged 10-12 digging into God's word as preparation for youth group and high school.
Combing fun games and activities for individuals and groups, Pray this Way unpacks Matthew 6:7-13, which teaches us about praying to the true and living God. Our loving God does not need lots of words, repeated rituals, and strange actions before he hears us. God knows everything, including who you are and what you need, and he has the power to answers our payers. Prayer was an important part of Jesus' routine and it should also be for us, his children.
Specification
| | |
| --- | --- |
| Age range: | 9 - 12 |
| Author | Penny Reeve |
| ISBN | 9781925041453 |
| Format | Saddle stitch |
| Dimensions | 163mm x 225mm x 6mm |
| Language | English |
| Pages | 60 |
| No. of studies | 7 |
| Publisher | CEP |