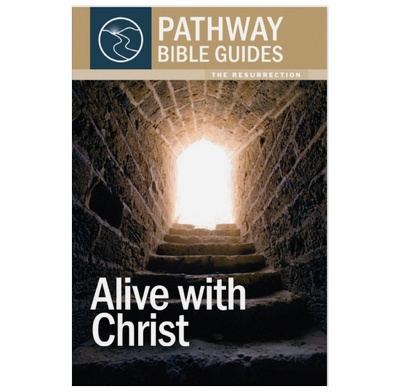 The Resurrection: Alive with Christ
Pathway Bible Guide
8 topical studies looking at the biblical evidence for the resurrection of Jesus, as well as its theological significance.
For 2000 years, Christians have persistently claimed that Jesus of Nazareth was crucified on a Roman cross and laid in a carefully guarded tomb, dead—only for hundreds of eyewitnesses to see him physically alive again. It's a claim that has echoed down through history and transformed countless lives. But can we really be sure it's true?
With clarity and biblical insight, Matthew Jensen takes us back to the most reliable sources and answers the questions that really matter: How do we know Jesus rose from the dead? What does the resurrection tell us about Jesus' identity, and how should it shape our lives today?
Contents
Before you begin
1. Jesus' resurrection in 1 Corinthians and Matthew
2. Jesus' resurrection in Luke
3. Jesus' resurrection in John
4. Jesus' resurrection and his lordship
5. Jesus' resurrection and our resurrection
6. Jesus' resurrection and the Spirit
7. Living the resurrected life (i)
8. Living the resurrected life (ii)
Appendix (i): Evidence for Jesus' resurrection
Appendix (ii): A timeline for the empty tomb's discovery
Appendix (iii): Jesus' resurrection appearances
For the leader
Specification
| | |
| --- | --- |
| Author | Michael Jensen |
| ISBN | 9781922206459 |
| Format | Saddle stitch |
| First published | March 2014 |
| Dimensions | 145mm x 215mm x 5mm |
| Print size | 10pt |
| Language | English |
| Pages | 72 |
| No. of studies | 8 |
| Publisher | Matthias Media |
Other information
About Pathway Bible Guides
Seeing Things God's Way is part of this new series of Pathway Bible Guides. They aim to provide simple, straightforward Bible study material for:

Christians who are new to studying the Bible (perhaps because they've been recently converted or because they have joined a Bible study group for the first time);
Christians with lower literacy levels who find other studies (such as the Good Book Guides or Interactive Bible Studies) too much of a stretch.
Accordingly, the studies are designed to be short, straightforward and easy to use, with an uncomplicated vocabulary. At the same time, the writers have tried to do justice to the passages being studied and to model good Bible-reading principles. They have tried to be simple without being simplistic; no-nonsense without being no-content.
The questions and answers assume a small group context but can easily be adapted to suit different situations, such as individual study and one to one.