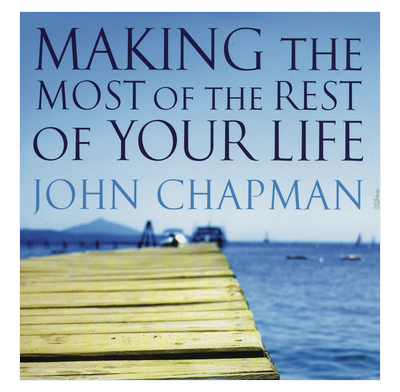 Making the Most of the Rest of Your Life - DVD
A warm, good-humoured and challenging evangelistic DVD aimed primarily at the over-50s.
John Chapman and Tony Payne discuss whether there is life beyond the grave and if so, what the new creation will be like and who gets to go there.
A warm, good-humoured and challenging evangelistic DVD aimed primarily at the over-50s. Great for evangelistic ministry among this often-neglected group, it addresses questions of whether there is life beyond the grave, what the new creation will be like and who gets to go there, in a simple conversational style.
Running time is 22 minutes.
See also the large print book of the same name.
Specification
| | |
| --- | --- |
| Author | John Chapman |
| ISBN | 9781921068997 |
| Format | DVD video (Amaray) |
| First published | March 2008 |
| Dimensions | 124mm x 124mm x 2mm |
| Language | English |
| Publisher | Matthias Media |
"Excellent"
As always John Chapman is great value, so down to earth, but so true to the Gospel. He speaks it in a way that anyone can understand, making it all sound so simple and so perfect, which it is, and I love his dry sense of humour. So would recommend this to everyone whether they've been a Christian all their life or those new to the faith.
"Excellent evangelistic tool for older people."
I have given away a number of copies of this book to older members of my family. It asks big questions about eternity and gives Biblical answers. Easy to read. Not too heavy and theological. John Chapman has an engaging style. The slightly larger print is useful.

We have used it for a number of evangelistic events for older people at our church too.
"...a simple convincing gospel chat."
A really clear, no gimmicks, common sense question and answer chat about eternity. The results of unbelief in Christ explained but with the alternative convincingly (if you will be convinced)and lovingly put.
Good to take into a home and sit with any age group, but especially hardened or drifting seniors
"Good evangelist tool for older people"
We are an older congregation and attract older people. We need to reach out into the area, and this DVD is not only very watchable, but gets across the christian message in a way it is easy to understand for non-church people.
"Excellent lead into Christianity Explored"
This is a most excellent companion to "Making the Most of the Rest of Your Life", the book. I am sincerely grateful to John Chapman for these wonderful tools pointing to Christ, relevantly aimed at people who are growing older and realising their limitations and frailty.

Of course aging people cannot achieve all they want to in their human lives.
Of course we will all die (which John introduces sensitively).
Of course it is sensible to think about whether there is a heaven afterwards and who gets there.
Of course Jesus's resurrection means that He is the only One Who can claim to have conquered death and is the One we should listen to.

This DVD is particularly appropriate for those who might not read the book quite so readily, covering the same main topics in a mere 22 minutes, in an informal manner which will appear relevant to anyone who has watched any (or too much) TV. The conversation is very gentle, and this is a very easy resource to share with people.

He focuses in part on Jesus in Mark, which is why it is such a good lead into a Christianity Explored course.

At the end of the DVD, John's follow-up suggestion is that the listener talks to the person who gave them the DVD, which gives great scope for further discussion.

I wholeheartedly endorse this DVD, and recommend anyone with elderly relatives who are not clearly vocal in Christian hope and anyone involved in outreach to the elderly to consider sharing this DVD. Buy one and see what you think!
"Gentle conversational gospel presentation."
The DVD records a conversation between Tony Payne and John Chapman lasting just over 20 minutes. John Chapman outlines the Christian's future hope in a very gentle way and with gentle humour. It could be used as a general gospel presentation, but will suit older folks in particular where John's situation will resonate - and where reading might be a problem (even though the book is larger than normal print). I couldn't find any subtitles, which could be useful.
"Excellent"
As an evangelist working with Outreach UK, this DVD has presented new opportunities to present the gospel to people who are retired.

John Chapman who has a unique way of explaining the important truths of God's word to the people of his generation.

I thoroughly recommend it!
"excellent"
The excellent reviews for the book also apply to the DVD. It is done in a conversational, non-preachy, non-shouting style.
I bought this to give to my mother who has lost most of her useful eyesight and so could not read the book. She watched it - she who would not discuss christianity with me.
It is now in the hands of our pastor waiting to be shown to our over 50's group.
Get a copy. It's only £3.50!