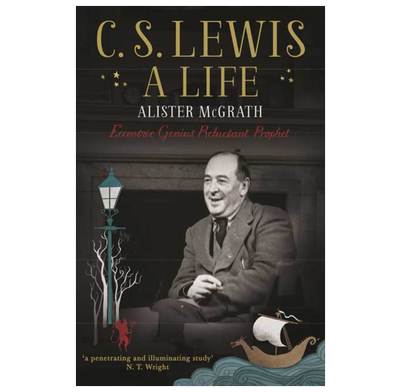 CS Lewis: A Life
Eccentric Genius, Reluctant Prophet
Definitive new biography of C. S. Lewis, author of the ever-popular Narnia books.
For more than half a century, C.S Lewis's Narnia series has captured the imagination of millions. In C.S Lewis - A Life, Dr Alister McGrath recounts the unlikely legacy of the Oxford don, who spent his days teaching medieval English literature and his nights writing a bestselling fantasy series for children.
To write this biography McGrath studied all of Lewis's correspondence and archival materials in chronological order, so as to illuminate afresh this much-loved author's life. This definitive biography paints a portrait of a deeply original thinker who became an inspiring, though reluctant, prophet for our times.
Accessible and engaging, this is a fascinating portrayal of a creative genius who continues to inspire millions of readers around the world.
The recent Narnia films have inspired a resurgence of interest in C. S. Lewis, the Oxford academic, popular theologian and, most famously, creator of the magical world of Narnia - and this authoritative new biography, published to mark the 50th anniversary of Lewis's death, sets out to introduce him to a new generation. Completely up to date with scholarly studies of Lewis, it also focuses on how Lewis came to write the Narnia books, and why they have proved so consistently engaging.
Contents
List of Illustrations
Preface
Chapter 1 The Soft Hills of Down: an Irish Childhood, 1898-1908
Chapter 2 The ugly Country of England: Schooldays, 1908-1917
Chapter 3 The Vasty Fields of France: War, 1917-1918
Chapter 4 Deceptions and Discoveries: The Making of an Oxford Don,1919-1927
Chapter 5 Fellowship, Family, and Friendship: The Early Years at Magdalen College, 1927-1930
Chapter 6 The Most Reluctant Convert: The Making of a Mere Christian, 1930-1932
Chapter 7 A Man of Letters: Literary Scholarship and Criticism, 1933-1939
Chapter 8 National Acclaim: The Wartime Apologist, 1939-1942
Chapter 9 International Fame: The Mere Christian, 1942-1945
Chapter 10 A Prophet without Honour?: Postwar Tensions and Problems, 1945-1954
Chapter 11 Rearranging Teality: The Creation of Narnia
Chapter 12 Narnia: Exploring an Imaginative World
Chapter 13 The Move to Cambridge: Magdalene College, 1954-1960
Chapter 14 Bereavement, Illness, and Death: The Final Years, 1960-1963
Chapter 15 The Lewis Phenomenon
Timeline
Acknowledgements
Works Consulted
Notes
Index
Specification
| | |
| --- | --- |
| Author | Alister McGrath |
| ISBN | 9781444745542 |
| Format | Paperback |
| First published | October 2013 |
| Dimensions | 128mm x 198mm x 22mm |
| Print size | 9pt |
| Language | English |
| Pages | 432 |
| Publisher | Hodder & Stoughton |