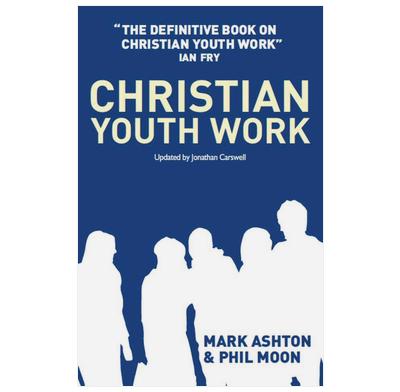 Christian Youth Work
Mark Ashton and Phil Moon put forward a strategy for youth work which is both radical and biblical.
The statistics are brutally clear. One thousand teenagers a week are leaving the church. Support among young people is decaying fast. For every church that has a flourishing youth group, there are three more that have none.

Mark Ashton and Phil Moon, both experienced youth leaders, put forward a strategy for youth work which is both radical and biblical:
'Christian youth work must be different from all other forms of youth work. It must be distinct in its aim, because Christians have a unique view of what it is to be a human being... We want to give Christians a renewed vision for young people, a new confidence in what they can do for them, how they can do it and why they should do it.'
Contents
Introduction
Foreword
1. Gray's Anatomy, Michelin Guide or instruction book?
The biblical basis for youth work
2. Oak tress or beansprouts?
Adolescent conversion
3. Its life to life
Working with young people (i)
4. It's people, people. people
Working with young people (ii)
5. The anachronism of the century
Young people and the church
6. Going, going, gone
Young people in the family and the school
7. Hope for the future?
Strategies for church leaders
8. Getting down to it
A last word for youth leaders
Recommended further reading
Index of resource agencies
Specification
| | |
| --- | --- |
| Contributors | Mark Ashton, Phil Moon |
| ISBN | 9781906173203 |
| Format | Paperback |
| First published | December 2006 |
| Dimensions | 129mm x 196mm x 15mm |
| Print size | 10pt |
| Language | English |
| Pages | 226 |
| Publisher | 10 Publishing |
Other information
"The definitive book on Christian youth work" - Ian Fry
"Read it"
Top stuff. Biblical, challenging, strips away the unhelpful. Read it.
"Essential"
Mark and Phil have written a book that every youth worker must read. I have thought through my stratgery of youth work using the Bible and this book. It is essential reading and worth it's weight in gold...in fact, pure, refined gold!
"The essential guide for Christian youth workers"
I'm thrilled to see that this excellent book has been reprinted. During my time as National UK Youth Secretary for the South American Mission Society I constantly recommended "Christian Youth Work" as a key resource for leaders giving, as it does, a solid Biblical grounding for practical Christian youth ministry.
Not before time a new generation of leaders can now benefit from Mark and Phil's collective experience, wisdom and gift in applying the Bible to youth ministry.
"Outstandingly practical and biblical analysis of youth work"
Brilliantly balanced in its treatment of the theoretical and the practical, the Bible and the world, the Old Testament and the New, I found this book extremely helpful both in thinking through my approach to working with young people, and also my whole life as a Christian. Particular themes which stood out for me include the emphasis on doing a deep work among the few rather than a superficial work among many, the pre-eminent place of prayer, and the danger of focussing on numbers or results-driven ministry, when character and discipleship are God's most important concerns. I would strongly recommend this book to youth workers and all other Christians alike.