Warriors of Ethiopia
The extraordinary story of how the gospel came to a remote region of Africa
This book recounts the stories of just some of the hundreds of peasant farmers from Southern Ethiopia who God called to take the Gospel message into previously inaccessible regions, to people so fierce they would not hesitate to kill an outsider.
It is a brief record of some of their culture, the security of their families and who, with Bible and water bottle in hand and confidence in their saviour, took the message of Jesus Christ over the mountain ranges and beyond the rivers to those who had never heard of Him.
Today, through the sacrifices and sufferings of men like these, there are thousands of churches throughout the mountains of Southern Ethiopia.
These stories will shock encourage, challenge and provoke you to follow their example as gospel warriors.
Contents
Dedication
Maps
Foreword
Introduction
1. DAFARASHA - Slavery and Redemption
2. MAHAE - A Pioneer Missionary
3. DANGO - A Bible at Any Price
4. KEBBA - The Least I Can Do
5. NANA - The Invisible Man
6. LALISO - The Gold Leaves
7. ONISA - A Rumour from the Lord
8. TEKKA - Angels Unaware
9. WAJA - The Prisoner of the Lord
10. DESALEGN - Adopted for Life
11. GWOBATA - The Cripple's Dream
12. TEKKA - A Martyr for Christ
13. JEMARI - Culture Shock and Courage
14. NANA - An Unusual Prayer
15. DESTA - Names are Important
16. FANTA - An Unlikely Candidate
17. TASSEW - Tortured for Christ
18. ALDABO - The Crooked Tree
19. ALDABO - The Man at the Funeral
20. EKASO - Prayer Warfare
21. BEKELE - Brigands and Blessings
22. TUMOLI - The Gangster
23. WAGASO - Spiritual Warfare
24. BIRHANU - Special Babies
25. MATEWOS - Along Unfamiliar Paths
26. MATEWOS - The Mediator
27. YOHANNIS - Singing for Jesus
28. TWO WIVES - Salute the Heroines
A Final Word
Extras
Specification
| | |
| --- | --- |
| Author | Richard McLellan |
| ISBN | 9781909559974 |
| Format | Paperback |
| First published | January 2014 |
| Dimensions | 140mm x 215mm x 12mm |
| Language | English |
| Pages | 224 |
| Publisher | Lost Coin Publishing |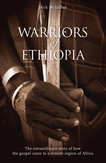 "God is glorified in Ethiopia"
How can there not be a review for this incredible book? Stories (with photos) of godly men and women, raised up by God's transforming grace, from pagan backgrounds. I promise you that there is no way to read this book without weeping at God's goodness in story after amazing story. Yes, many were killed for their faith by the Italians and communists but Christ's church grows. I daren't spoil the story of what happens when a dying man from a remote tribe comes to faith and records his testimony. Or how a man can be visible and invisible. Or what happens when 20 women pray when a man with a gun points it at the head of the author.

Yes, the book would benefit from some editing to remove repetitions between chapters, although this means you can dip anywhere in the book and the relevant background is given. And the page numbering is one chapter out after the photos.

Christian Focus publish a children's version of the book which I have read to my daughter and she has greatly enjoyed.