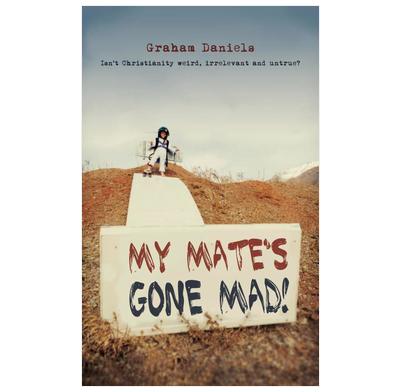 My Mate's Gone Mad
Isn't Christianity Weird, Irrelevant and Untrue?
Graham Daniels tackles some common objections to Jesus and Christianity head on.
Who exactly was Jesus and what exactly is Christianity?
Mad? Irrelevant? Untrue?
Graham Daniels tackles these questions head on and answers them in a succinct, easy to read way using John's Gospel as its basis. Drawing on the author's own story of discovering the Christian faith, My Mate's Gone Mad! humorously and gently reveals the good news of Jesus.
Specification
| | |
| --- | --- |
| Contributors | Graham Daniels |
| ISBN | 9781910587799 |
| Format | Paperback |
| First published | January 2008 |
| Dimensions | 110mm x 177mm x 5mm |
| Print size | 9pt |
| Language | English |
| Pages | 64 |
| Publisher | 10 Publishing |
Other information
The Exploring Christianity series looks at some of the big issues in life, tackles them head on and leads you to the incomparable person of Jesus.
"Like the title"
Always difficult to buy a book without seeing some of the content. This isn't particularly well written, but I have found the title very useful when offering literature to a person who is thinking about Christianity.
"Brilliant"
Short, punchy, humorous, easy to give away and contains the gospel - the perfect tool for evangelism. Bridges the gap between a tract and a book brilliantly.