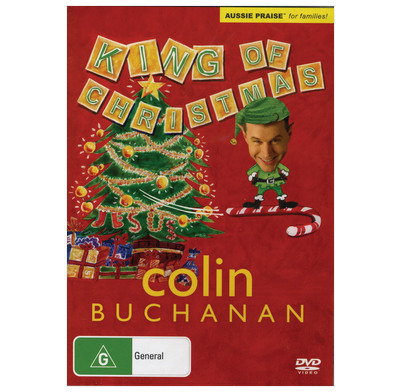 King of Christmas (DVD)
Colin's joyful celebration of Jesus' birth comes to DVD.
Colin's latest epic blockbuster has arrived - King of Christmas, the DVD! Colin's joyful celebration of Jesus' birth comes to DVD, bulging with gift-wrapped, tinsel-trimmed energy and fun for the whole family!
Join Colin as he gathers the Christmas Clues as the CSI guy, raps his way through the story of Luke 2, brings good news to the nation from the King of Christmas news desk and triumphs in the glittering grand final of Dancing with the Dummies.
Based solidly in the biblical account of the very first Christmas, Colin cooks, skates, clip-clops, and sings and dings his way through his most ambitious DVD yet. It's an up-beat and unpredictable, hopeful and happy celebration of Jesus, the King of Christmas! Includes a bonus peek behind the scenes, outtakes and some tasty surprise Christmas goodies!
Contents
Songs include:
Happy happy day
King of Christmas
Glory to God
Aussie Jingle Bells
Merry Merry Christmas
The Magi
Jesus Saves
Go tell it to Australia
Angels singin' Glory
On that very first Christmas
Specification
| | |
| --- | --- |
| Age range: | 4 - 9 |
| Contributors | Colin Buchanan |
| ISBN | 9783078007898 |
| Format | DVD video (Amaray) |
| First published | September 2008 |
| Dimensions | 135mm x 190mm x 13mm |
| Language | English |
| Publisher | Wanaaring Road Music |
"Our children love this DVD. "
This great DVD clearly teaches that the most important thing about Christmas is Jesus. It does this through some great tunes and very funny 'video clips' that parody range of television genres. It is very funny and also had my husband laughing every time he watched it.
"Outstanding!!!"
Brilliant DVD putting Jesus and the gospel straight back into Christmas. Great songs and humour for the whole family. Gotta have this one for Christmas!!!!!
"really appealed to my son"
Bought this for my 4 1/2 year old son, who has watched it daily for 1 month. Nice variety of different music (and lots of silliness) but all celebrating the real reason for christmas
"Very good songs for children - and adults too!"
An Australian Christmas is strange - picnics and sunshine. But the songs are very good, especially Jesus Saves.
"Clear and faithful gospel message, fun for the children."
Perhaps I'm a bit biased, but I would recommend everything by Colin Buchanan. That being said, we've found his King of Christmas CD/DVD some of his best material but in content and presentation. Our little four year old would watch it year round, but sadly she has to wait until November (though we did get a special July viewing this year). Highly recommended. You and your children will learn about the birth of Christ and become familiar with songs that exalt our Lord.
"Brilliant! Children's favourite over Christmas."
This is a collection of wacky songs and activities from Colin Buchanan. My children watched it over and over again at Christmas. They have just found it again and put it on. I love the fact that they are listening to the Gospel in song and learning the real meaning of Christmas. Classics like Jesus Saves (to the tune of Jingle bells) should be sung in every church carol service. A familiar tune that all visitors know well and words that explain the Gospel.
"Words are better appreciated by listening to the CD"
This DVD is fun and targetted for perhaps 7 year olds and above. We bought the CD first and were amazed at the biblical truths that Colin brought out in a catchy and entertaining way that our children enjoyed. I found all the action on the DVD rather distracting from listening to the words of the songs but our children just love it (and they're both under 3?)! I would still recommend the DVD but find the CD much better.
"Brilliant"
Fantastic entertainment for the kids and a good way of reminding everyone of the real meaning of Christmas.
"Outstanding - buy this"
Utterly brilliant. Each song manages to be fun, catchy and yet still bursting with biblical truth. The rap and the CSI skit are extremely funny, and the 'Dancing with Dummies' quite extraordinary. Colin has a real gift for speaking clearly and on a child's level without coming across in any way cringy or patronising. There is something in this for all ages, although I guess will be appreciated most by 5 - 10 year olds. Even my two year old likes watching it! Fantastic for use in your own family, or a great present idea.
"Brilliant!"
We have a number of Colin's CDs and DVDs but this is fast becoming the favourite. All three kids (aged 7, 5, 2) love it and I can see it's appeal extending throughout the primary age range at least. There is a real variety of musical styles that feature, including rap and folk, set amongst Colin's zany sketches. The songs draw the kids into different elements of the Christmas story with catchy tunes and fantastic lyrics that can only serve to teach our kids about the real and true Christmas message. A brilliant gift for godchildren etc!