Five English Reformers
A history of five of England's best known martyrs
Few martyr's words can be more stirring than those of Bishop Hugh Latimer's to Dr. Nicholas Ridley:
"Be of good comfort, Master Ridley, and play the man. We shall this day light such a candle, by God's grace, in England, as I trust shall never be put out".
But why were such men burned at the stake? What were the great convictions in which they lived and for which they were prepared to sacrifice life itself? What made their lives and testimony to Christ's gospel so powerful?
Do Christians today share either their convictions or their faithfulness? It was the increasing conviction that martyrs, though dead, can still speak to the church, which led Bishop J.C. Ryle to pen these pungent biographies of Five English Reformers last century. Along with an analysis of the reasons for their martyrdom he pointed out the salient characteristics of their Christian lives. Such men still prove to be examples, warnings and challenges all in one, to Christians today. Readers will rise from the company of their life stories praying for a similar faith in Christ's power.
Contents
Why Were Our Reformers Burned
John Hooper: Bishop and Martyr
Rowland Taylor: Martyr
Hugh Latimer: Bishop and Martyr
John Bradford: Martyr
Nicholas Ridley: Bishop and Martyr
Specification
| | |
| --- | --- |
| Author | J C Ryle |
| ISBN | 9780851511382 |
| Format | Paperback |
| First published | May 2014 |
| Dimensions | 120mm x 180mm x 10mm |
| Language | English |
| Pages | 160 |
| Publisher | Banner of Truth |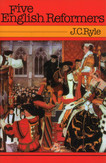 "Informative although hard to read at times"
I found this book very good in encapsulating the trials of the english protestant reformers but it was hard to read at times due to the vivid descriptions of the reformers being burnt at the stake and also the old english language that is used.