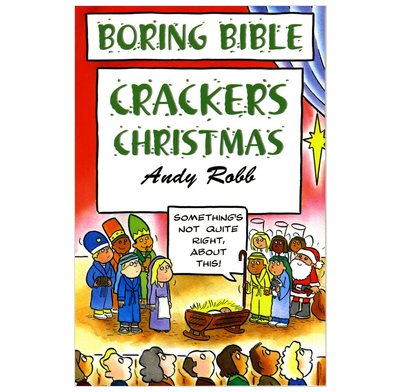 Boring Bible: Crackers Christmas
What does Christmas mean, why do we have it, and does it have anything to do with crackers and gifts?
The latest in the successful 'Boring Bible' series, these books by Christian writer and cartoonist Andy Robb are intended to help children understand who God is (as revealed in the Bible) and how he has operated throughout history in both the Old and New Testament eras.
Packed with jokes, facts and thought-provoking questions, they encourage kids to turn to the Bible to find answers and guidance for living. Try it. It works!
There's so much stuff in the Bible we wont be able to look at every bit of it but the bits we've chosen will hopefully make you start to realise that the Bible maybe isnt quite so boring as you thought. Have fun!
Contents
1. Introduction
2. Why 25th December?
3. The Story of Santa
4. Speechless!
5. Scary for Mary
6. Whoa Joe
7. The story of Christmas cards
8. Crackers Christmas' Recipe Book
9. Boogie Baby
10. Soul Sisters
11. Zech Unzipped
12. When was Jesus Born
13. A Star is Born
14. Un-Silent Night
15. Temple Turmoil!
16. Super Star!
17. Horrid Herod!
18. The Grumpy Innkeeper
19. Put On Your Very Own Christmas Play Kit
Specification
| | |
| --- | --- |
| Age range: | 8 - 11 |
| Author | Andy Robb |
| ISBN | 9781842981665 |
| Format | Paperback |
| First published | 2012 |
| Dimensions | 130mm x 198mm x 6mm |
| Language | English |
| Pages | 128 |
| Publisher | John Hunt Publishing |