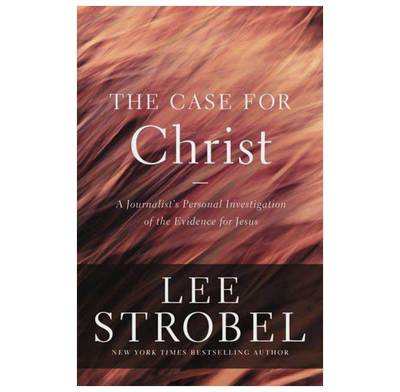 Case for Christ
A Journalist's Personal Investigation of the Evidence for Jesus
Lee Strobel cross-examines a dozen experts regarding the evidence for Jesus of Nazareth.
A Seasoned Journalist Chases Down the Biggest Story in History
Is there credible evidence that Jesus of Nazareth really is the Son of God?
Retracing his own spiritual journey from atheism to faith, Lee Strobel, former legal editor of the Chicago Tribune, cross-examines a dozen experts with doctorates from schools like Cambridge, Princeton, and Brandeis who are recognized authorities in their fields.
Strobel challenges them with questions like How reliable is the New Testament? Does evidence exist for Jesus outside the Bible? Is there any reason to believe the resurrection was an actual event?
Strobel's tough, point-blank questions make this remarkable book read like a captivating, fast-paced novel. But it's not fiction. It's a riveting quest for the truth about history's most compelling figure.
What will your verdict be in The Case for Christ?
Contents
Introduction: Reopening the Investigation of a Lifetime
Part 1. Examining the Record
1. The Eyewitness Evidence: Can the biographies of Jesus be trusted? (Dr Craig Blomberg)
2. Testing the Eyewitness Evidence: Do the biographies of Jesus stand up to scrutiny? (Dr Craig Blomberg)
3. The Documentary Evidence: Were Jesus' biographies reliably preserved for us? (Dr Bruce Metzger)
4. The Corroborating Evidence: Is there credible evidence for Jesus outside his biographies? (Dr Edwin Yamauchi)
5. The Scientific Evidence: Does archeology confirm or contradict Jesus' biographies? (Dr John McRay)
6. The Rebuttal Evidence: Is the Jesus of history the same as the Jesus of faith? (Dr Gregory Boyd)
Part 2. Analyzing Jesus
7. The Identity Evidence: Was Jesus really convinced that he was the son of God? (Dr Ben Witherington III)
8. The Psychological Evidence: Was Jesus crazy when he claimed to be the son of God? (Dr Gary Collins)
9. The Profile Evidence: Did Jesus fulfill the attributes of God? (Dr D A Carson)
10. The Fingerprint Evidence: Did Jesus – and Jesus alone – match the identity of the messiah? (Louis Lapides, M Div, Th M)
Part 3. Researching the Resurrection
11. The Medical Evidence: Was Jesus' death a sham and his resurrection a hoax? (Dr Alexander Metherell)
12. The Evidence of the Missing Body: Was Jesus' body really absent from his tomb? (Dr William Lane Craig)
13. The Evidence of Appearances: Was Jesus seen alive after his death on the cross? (Dr Gary Habermas)
14. The Circumstantial Evidence: Are there any supporting facts that point to the resurrection? (Dr J P Moreland)
Conclusion: The Verdict of History
What does the evidence establish – and what does it mean today?
Specification
| | |
| --- | --- |
| Contributors | Lee Strobel |
| ISBN | 9780310345862 |
| Format | Paperback |
| First published | July 2014 |
| Dimensions | 136mm x 215mm x 21mm |
| Language | English |
| Pages | 320 |
| Publisher | Zondervan |
"It's very important book for Christian faith"
Importance of Christian defender is giving a answer to those who ask you for a hope that you have